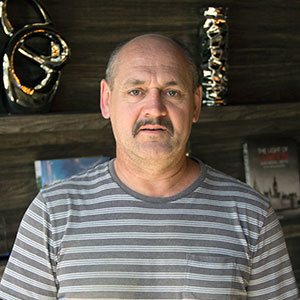 Jake Wall
After spending over a decade running his own carpentry finishing company and installing kitchens for Decor, Jake decided to join the Two30Nine team as an installer full-time. Jake prides himself on his attention to detail and constantly strives to make his customers happy. He's known for his quality work and generally being able to fix whatever's broken!
Jake grew up in the Winkler area and loves serving in his church. When asked what the best part of his job is, he's quick to mention his interactions with his customers and seeing them happy and over-the-moon with the finished product- whether that's a kitchen, bathroom or other cabinet installation.
Where can we find you when you're not working? What's your favourite way to spend a weekend or Sunday afternoon?
I love taking long motorcycle rides with my wife along the highways of Manitoba- we always ride together. This summer, we took a trip all the way to B.C. on our bike. I also enjoy hunting on my days off and when the season permits.