Bright Ideas For Integrated Cabinet Lighting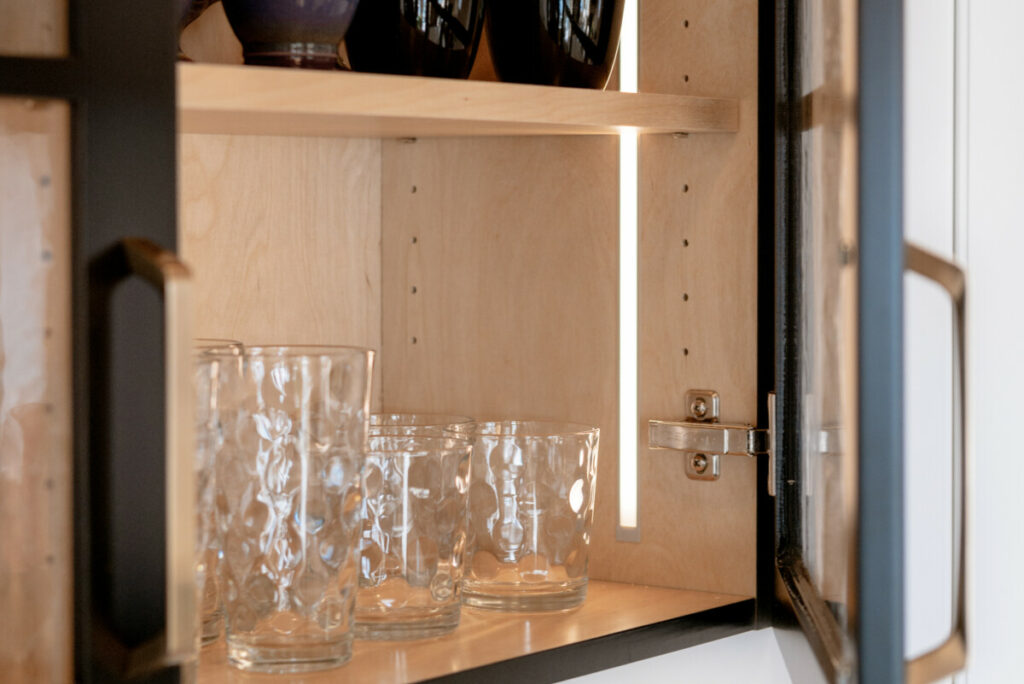 From illuminating a highly used kitchen worktop, spotlighting beloved items on accent shelves, or providing a soft, comfortable glow to evening gathering spaces, most designers agree that good lighting completes a space. Lighting adds drama, makes spaces safer, and can be a beautiful accent to your home. To pay homage to this favourite aspect of cabinetry design, we're outlining some of our favourite ways to incorporate it.
Task Lighting
Perhaps the most well-known and widely used type of cabinet lighting, strip lights in the underside of your upper cabinets, are almost standard in new kitchens nowadays. At Two30Nine, our factory routes LED strips right into the bottom of your cabinets and runs the wiring out the back of the cabinet, eliminating those exposed unsightly wires. The LEDS strips are encased in a cover, which diffuses and protects the LED and makes it so each individual tiny light is not visible on the strip – this is especially important when considering that most stone countertops are shiny and will reflect the light shining down on it from above!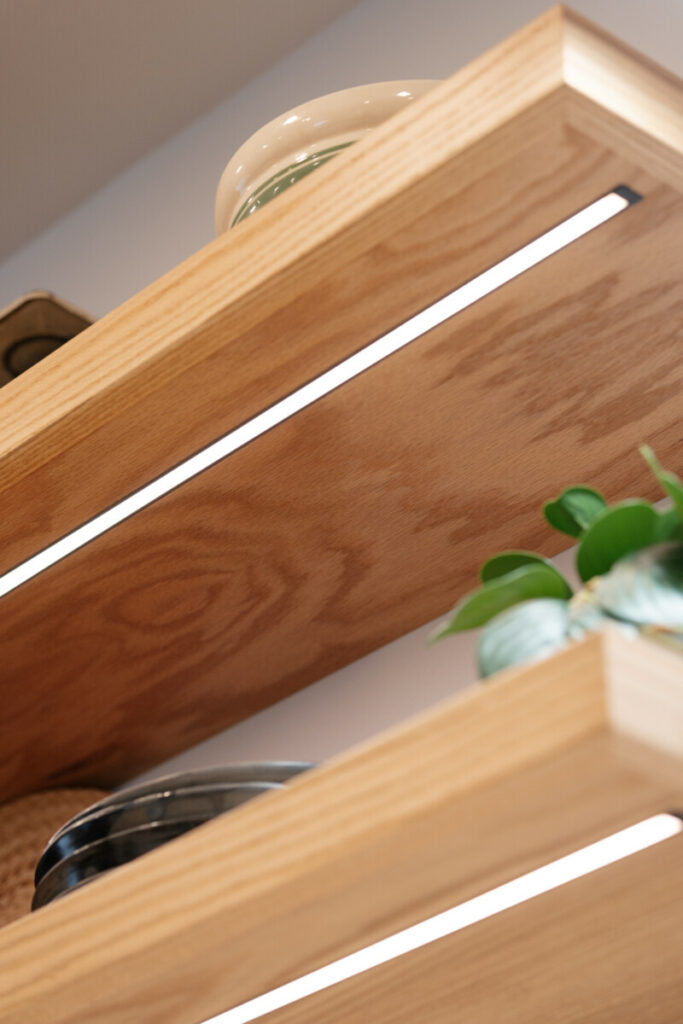 An often-neglected area of lighting is over the sink, when a sink is located under a window. In the daytime, the window provides wonderful natural light for washing dishes. Past nightfall, however, this can often become a dark spot. Running crown moulding continuously above your window provides a great spot for puck lights to be incorporated, providing seamless illumination over one of the kitchen's main work zones.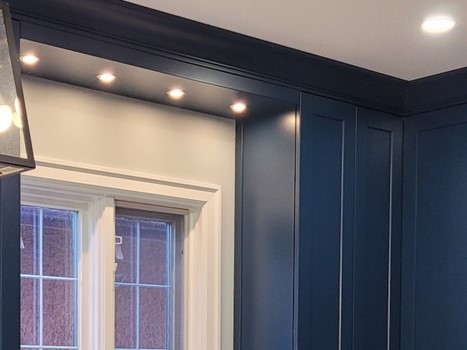 It is also possible to add task strip lighting inside your cabinets, controlled by a sensor switch that turns on or off as the cabinet is opened. We especially love the functionality of this feature in lower corner cabinets, a commonly dark and hard-to-access spot, and inside drawers for easier viewing of the items stored within.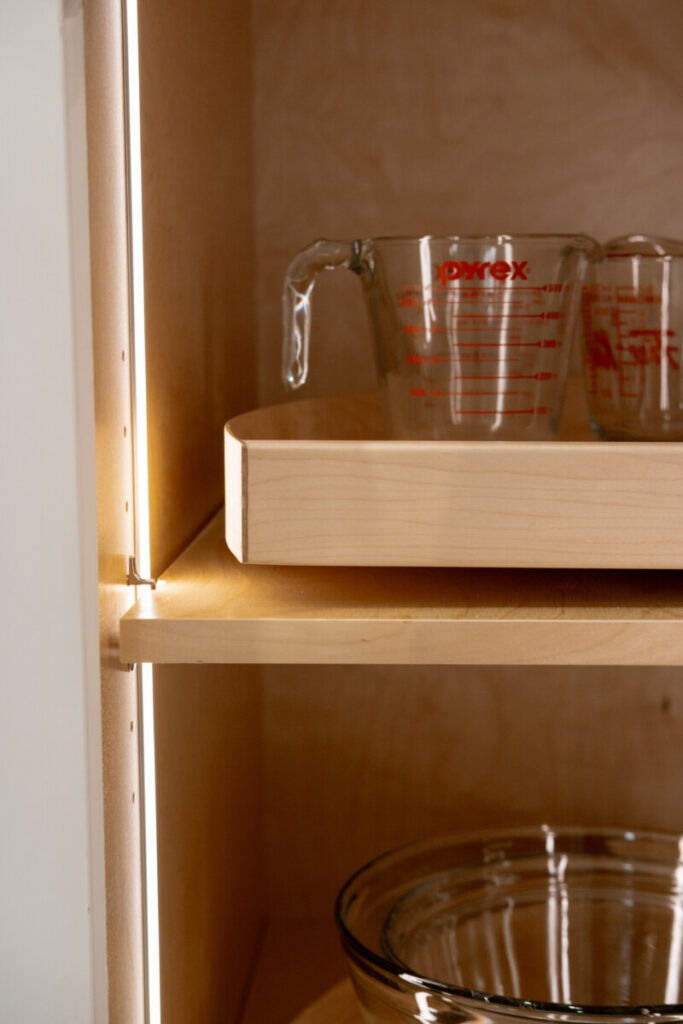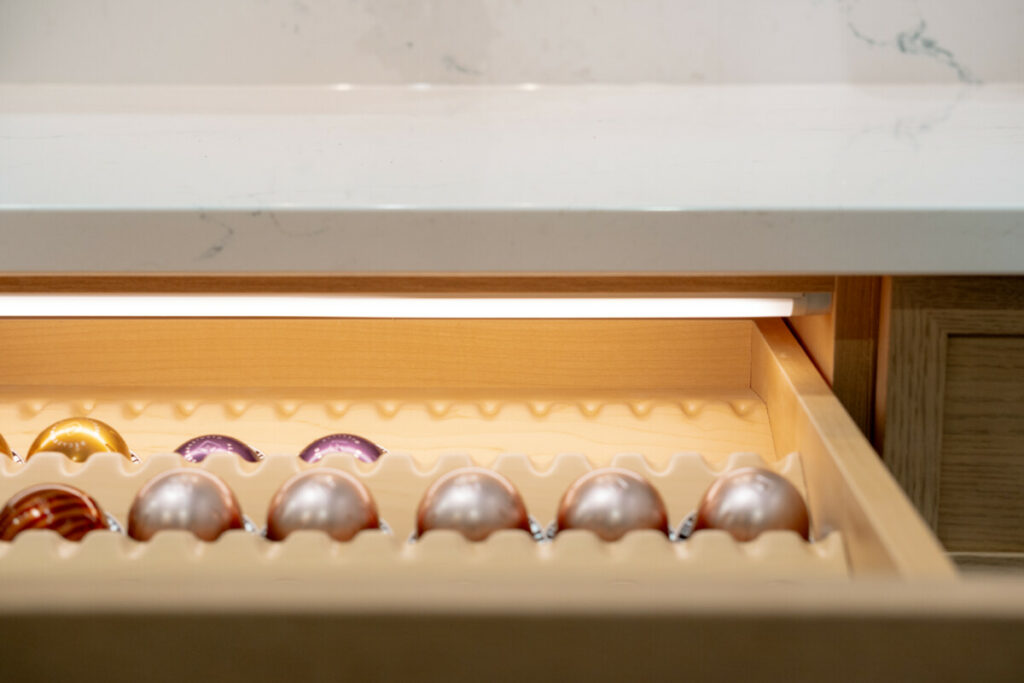 Accent Lighting
There are a multitude of ways to illuminate areas of your homes for reasons other than tasks. For a stack of open floating shelves (especially in a corner), we love puck lights! They beautifully spotlight the items displayed on the shelves and can really brighten up what is often otherwise a poorly illuminated area.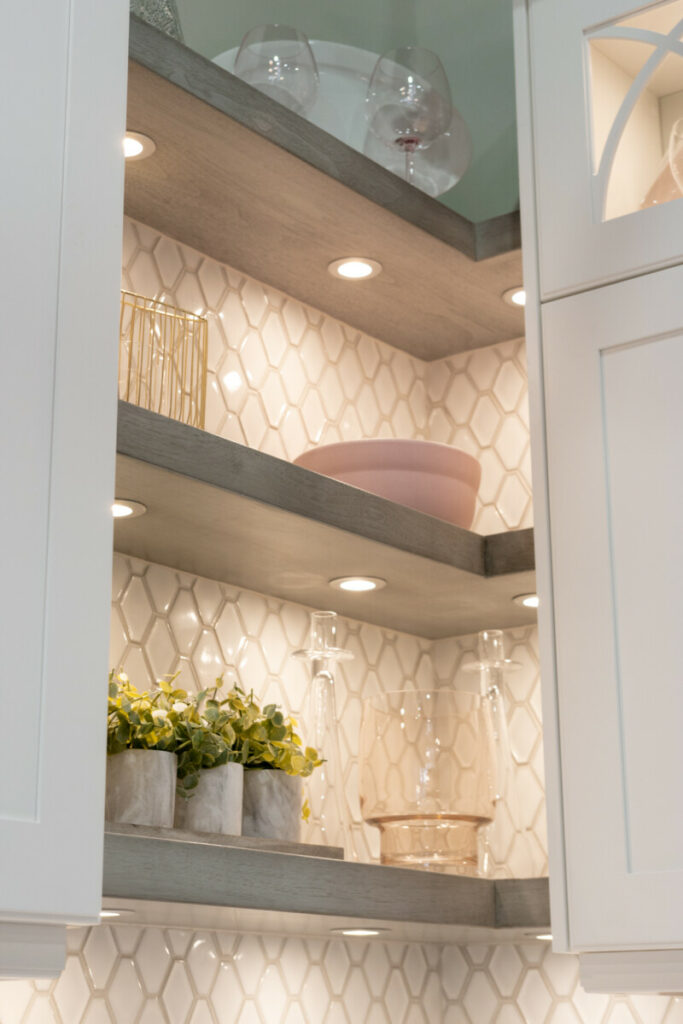 Inside open cabinets or glass-door cabinets, both strip and puck lights find a home. Puck lights in the underside of the top of a cabinet provide beautiful downlighting inside a cabinet, but can be inhibited by the shelves inside the cabinet blocking the light from passing all the way through. This can be mitigated by either using glass shelves instead of wood, or by putting strip lights in the sides of the cabinets instead, providing vertical illumination to the full interior of the cabinet.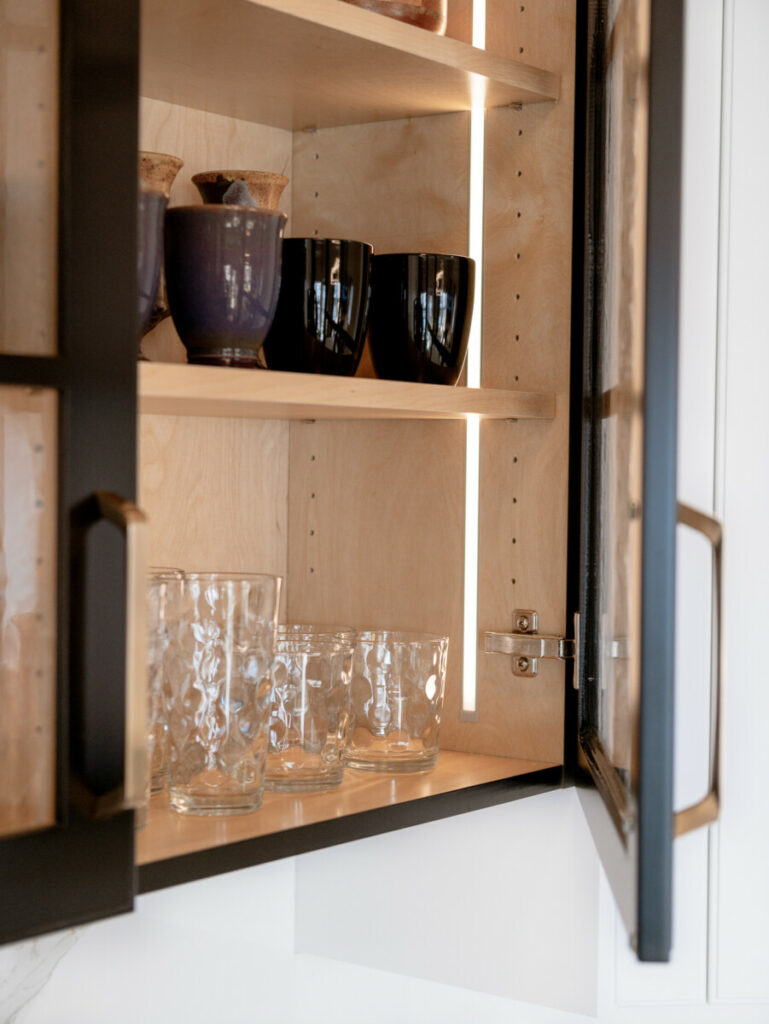 Another way we love to brighten up the interior of a cabinet is by putting the strip lights in the back of a shelf, providing a soft backlight rather than direct downlighting.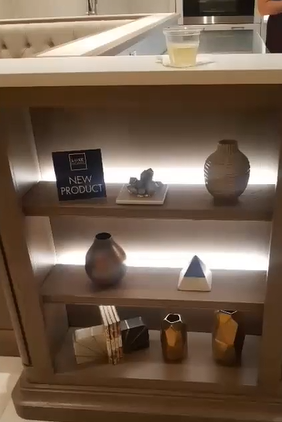 Strip lighting was also used in this Two30Nine project, to backlight panels with pegs that will be used to hold the homeowners' wine collection.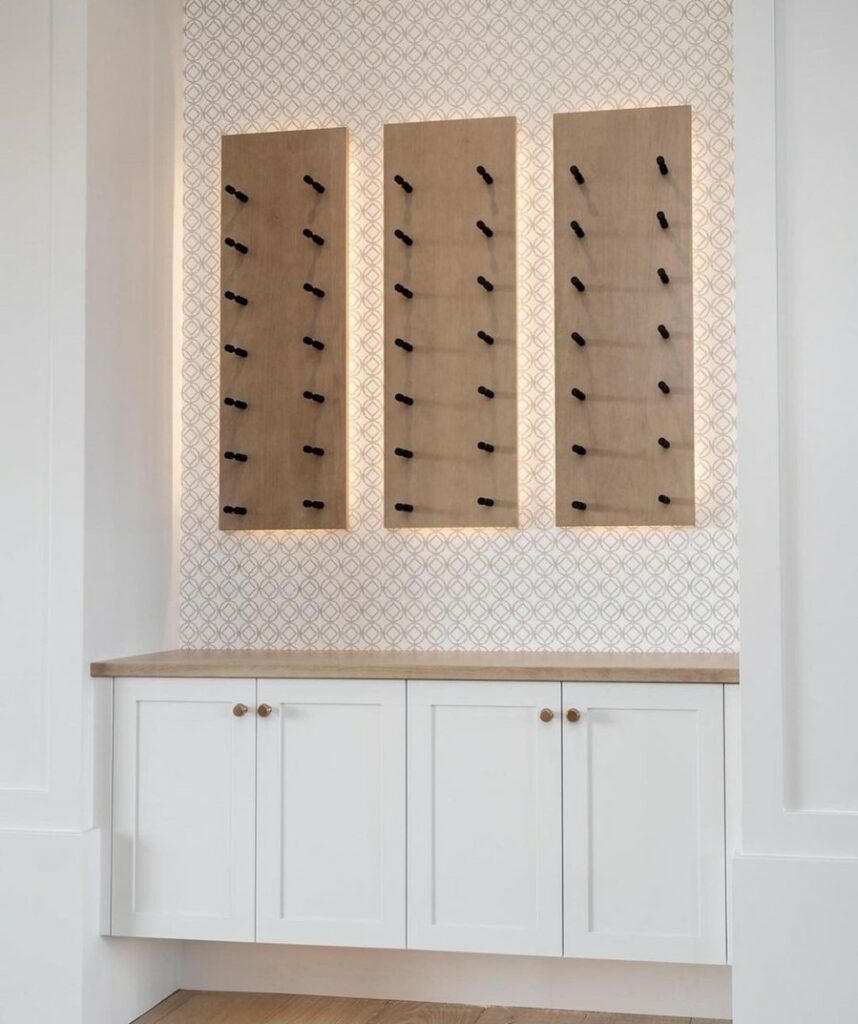 In bathrooms, lighting in the toekick space or the underside of a floating vanity can be a wonderful way to enhance the space while also providing just the right amount of lighting for a middle-of-the-night bathroom trip – enough to see your way in, but not so much that you'll be squinting painfully.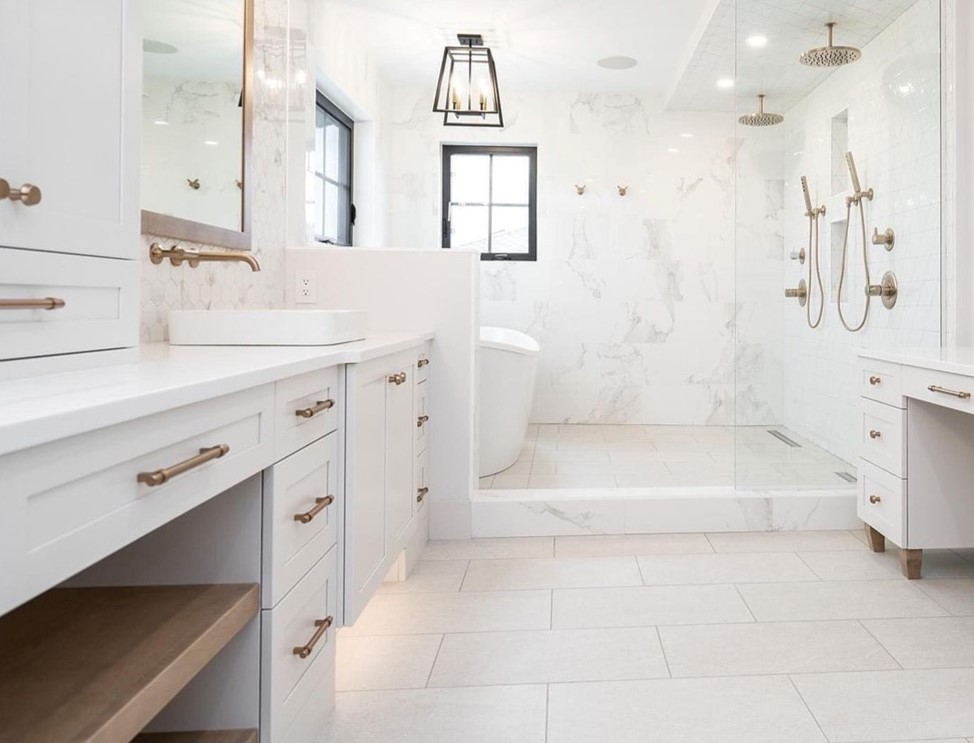 Toekick lighting in a kitchen can also be a beautiful accent for the same reason, a soft glow to accent the space.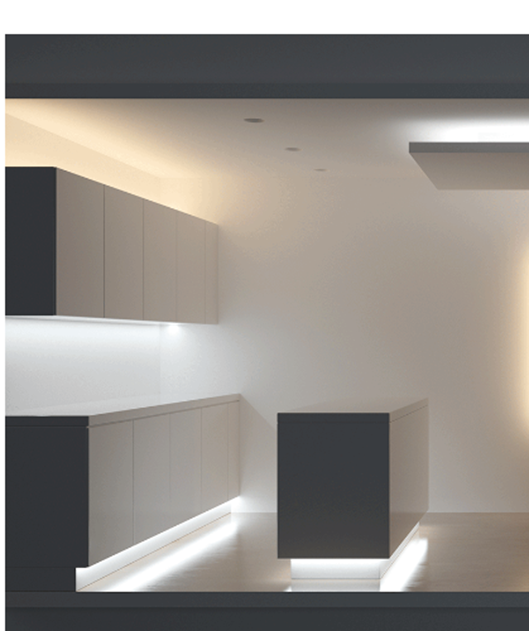 Switching
Now that we've discussed some of the many ways lighting can be used within a cabinetry design, how do we go about controlling that lighting? A dimmer wall switch might be the most commonly-used way to do this, but we're big fans of putting a fun spin on this. Using Hafele's Loox line of lighting and lighting accessories, we can control integrated lighting using a wave switch, hidden in a cabinet bottom panel, a cabinet touch-switch, concealed in a cabinet side panel, a motion sensor switch, or using a smartphone app!
Which switching option makes the most sense for your specific space will depend on several factors, including the traffic flow through the room, the purpose of the lighting, and what connectivity pathways are available to us during the cabinetry installation. Your Two30Nine designer will work closely with you to develop a lighting plan that makes the most sense for you, taking your lifestyle and how you use your home into account.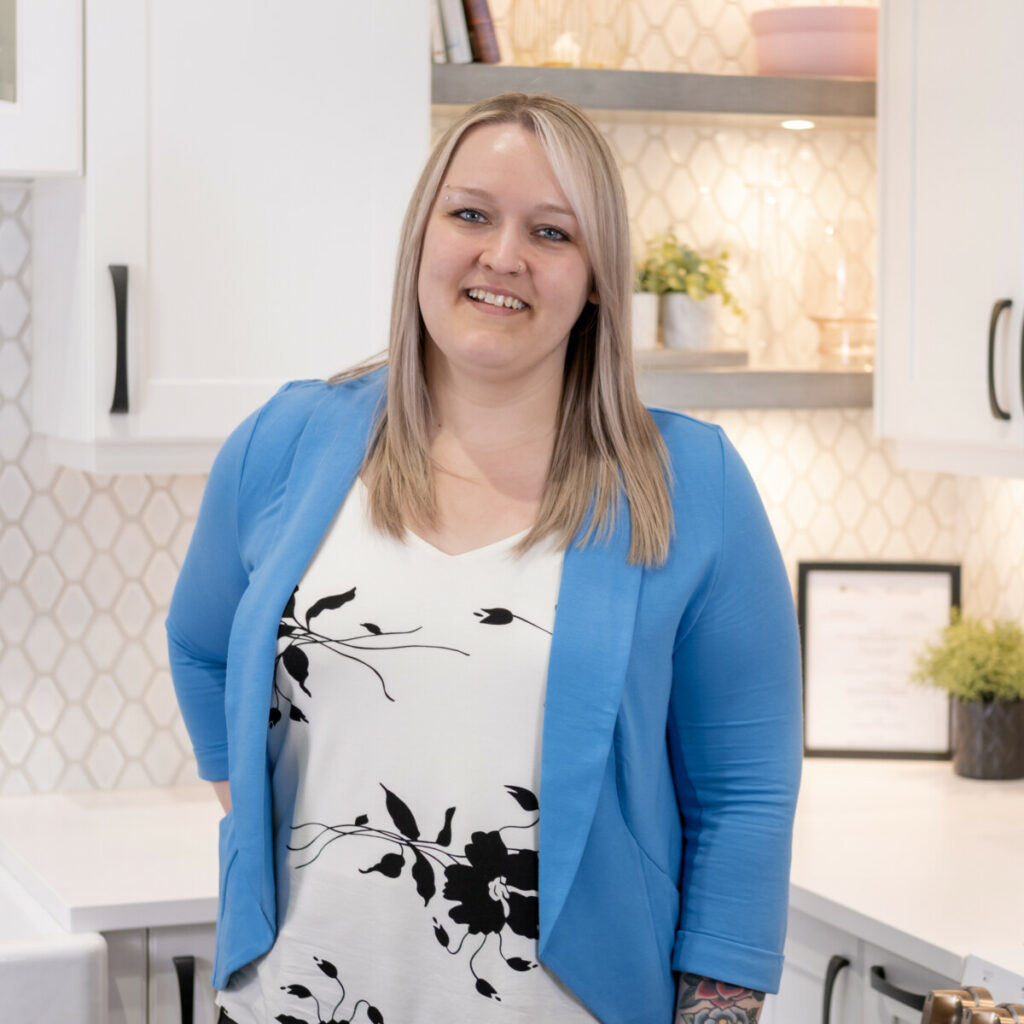 Victoria Avanthay
Victoria has worked in the cabinetry industry since 2013, with a passion for creating beautiful, high-quality, and thoughtfully planned spaces. In 2022, she was proud to join just a handful of Manitobans to earn CKBD appellation through the NKBA. She carries a wealth of product knowledge and can't wait to help you plan your next cabinetry project!
RECENT POSTS PICKED for you