Kitchen Design Styles: Defining the Most Popular Styles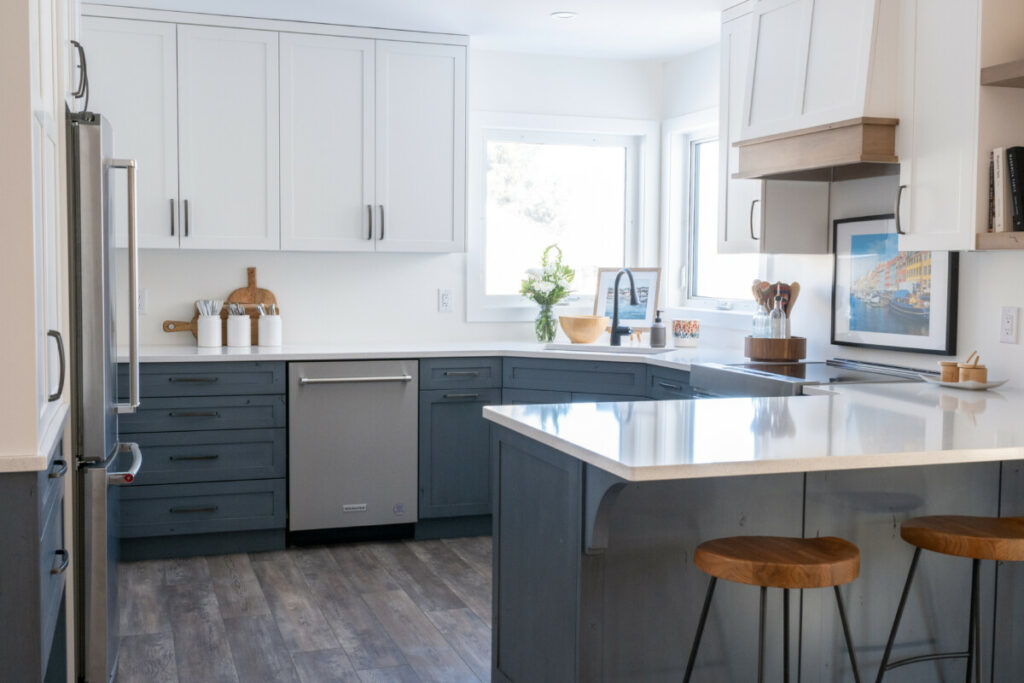 Do you know what your design style is?
Do you have an idea of what you want your kitchen to look like, but have a hard time finding the right words to describe your style to your kitchen designer? You are not alone! With common buzz words like modern farmhouse, mid century modern, and contemporary getting tossed around it can be hard to know what each style actually entails.
In this post we're going to go over the basics of the most popular design styles.
SCANDINAVIAN – clean lines, light colours, and natural textures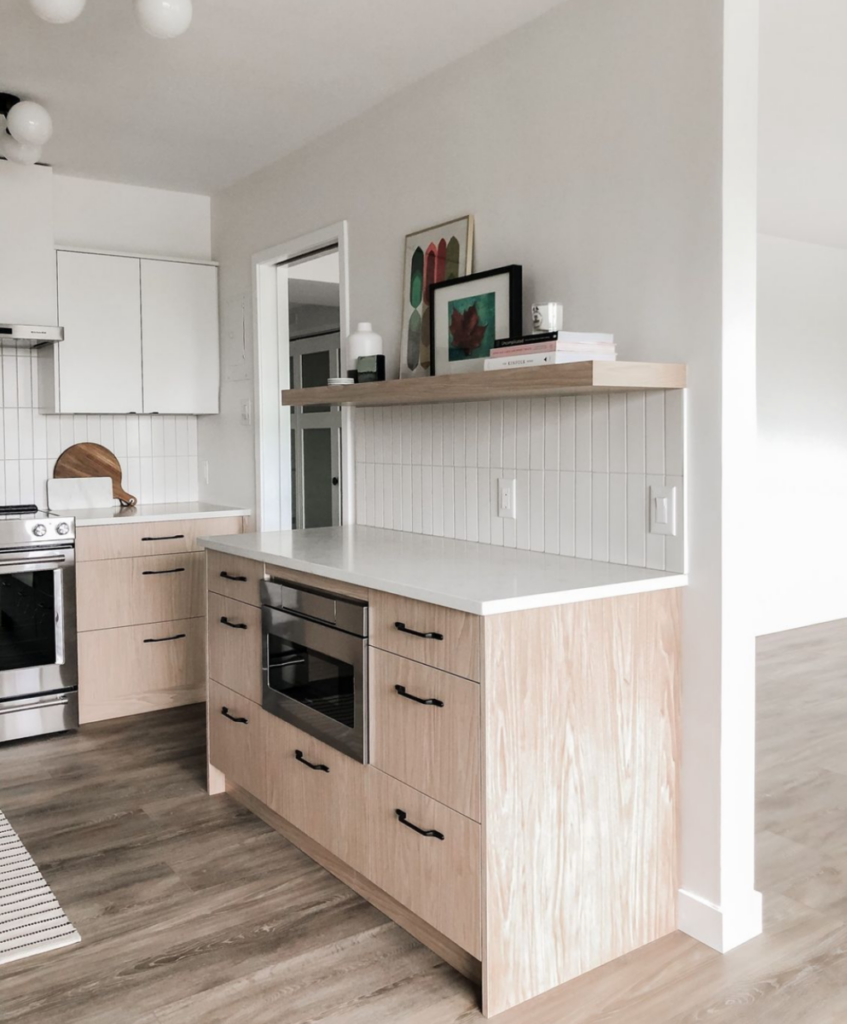 The Scandinavian design arose in popularity in Europe and America in the mid-20th-century along with the popularity of modernism. The principal foundation of Scandinavian design is 'form meets function'. Scandinavian design focuses on natural materials and clean lines inspired by bringing the outdoors inside. Taking the simplicity of modern design and softening it with cozy textiles, warm woods, and light colour-schemes.
Characteristics
Colours – White and neutral hues as the base, blended with natural wood tones and pops of blue and green.
Door style – Slab front with iron, nickel, brass, or wood finishes
Countertop – Rustic stone or tile, quartz is also a great material for this style
Backsplash – Natural, minimal colour, not too busy
Elements:
– Large windows to bring the outside in and for natural light
– Natural wood flooring for added warmth
– Cozy and coloured textiles
– Cean, rounded and straight lines
– Open and floating shelving throughout
– Bring in some plants to add to the outdoors in theme
MID-CENTURY MODERN – eclectic, comfort, and practicality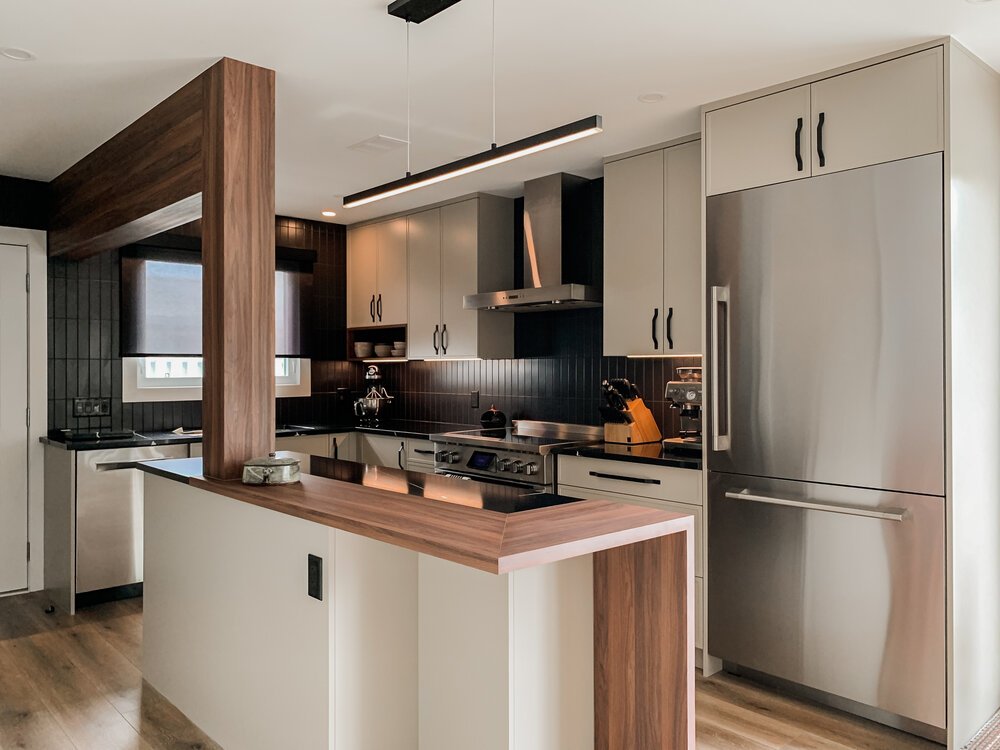 Gaining popularity in the 1940s, Mid-Century Modern is a combination of retro and modern with inspiration from the outdoors. Similar to the Scandinavian style, Mid-Century Modern includes simple lines and warm tones while incorporating a vintage and eclectic charm. Focusing on simple lines and a large focus on texture it often includes wood paneling and wood cabinets along with retro colours such as mint green, pink, or orange.
Characteristics
Colours – Bright or muted greens, yellows, oranges, and pinks mixed with natural wood and creams
Door style – Slab front painted doors, walnut accents and sliding doors
Countertop – Quartz or laminate
Backsplash – Bold, geometric patterns that bring a retro vibe, exposed brick
Elements:
– Combination of contrasting materials and textures
– Open shelving
– Bring the outside in with large windows for natural light
– Plants for pops of nature in the space
– Fun and unique furniture
– Statement pendant lighting
CONTEMPORARY – clean, simple, and sleek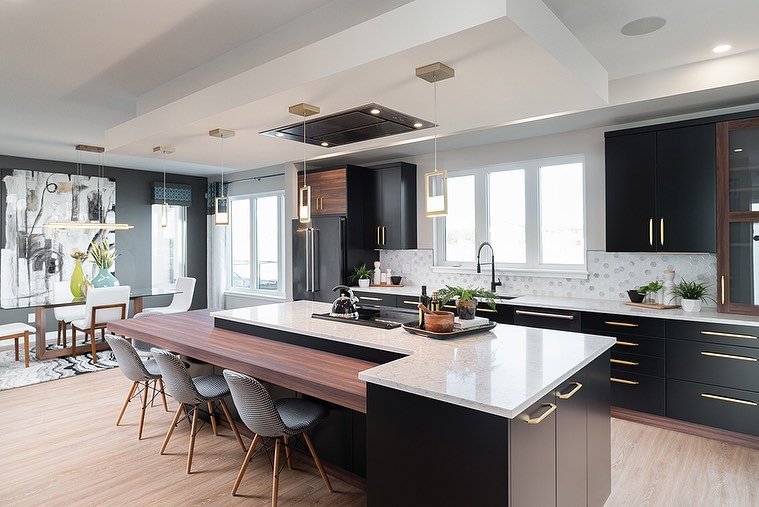 Not to be confused with the 'modern' design which refers to the design movement more closely resembling 'mid-century modern'. Today's contemporary design (which is simply defined by what is in style at the moment) has a focus on a clean, open space with a good use of the space available. Similar to the Scandinavian style with clean lines, minimal design, and an emphasis on light. Contemporary design not only has a stylish design but has a focus on using innovative storage solutions.
Characteristics
Colours – clean whites, blacks, and neutrals or a bold colour mixed with natural wood
Door style – slab door front
Countertop – Quartz or porcelain
Backsplash – Simple porcelain or glass tile, full height slab
Elements:
– Integrated appliances
– Open layout
– Simple hardware or often without hardware
– Integrated lighting
– Stainless steel appliances and sleek fixtures
– Waterfall countertop
EUROPEAN CONTEMPORARY – refined, sleek, and minimalist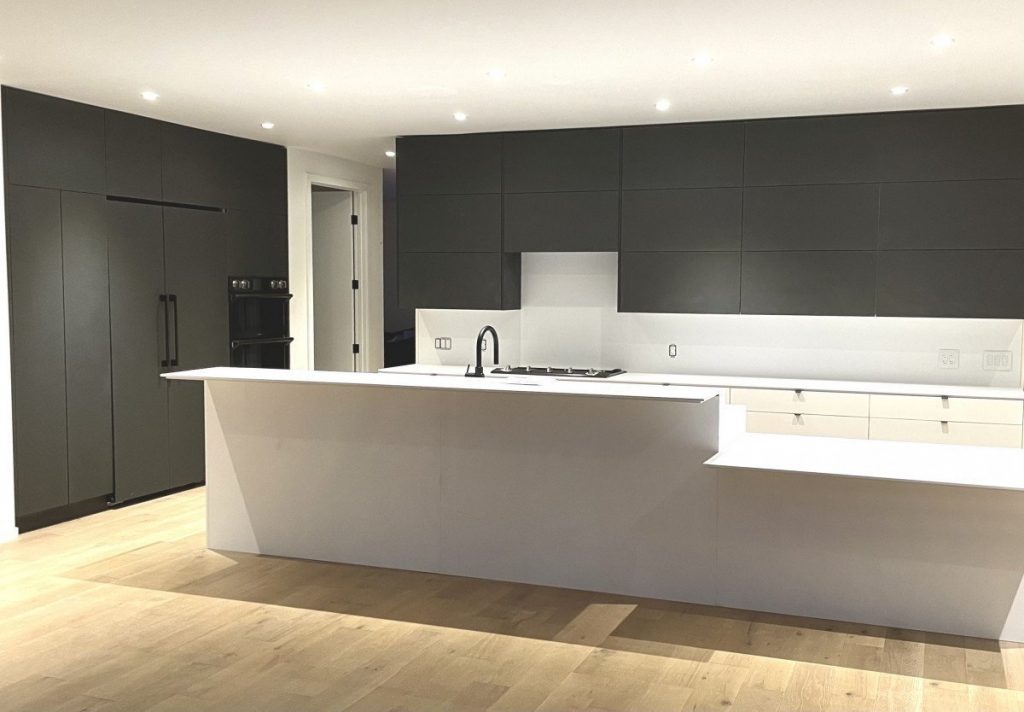 Less is more in a European kitchen. When it comes to European design, German designed kitchens dominate the market with their sleek lines and ergonomic design.
Characteristics
Colours – Neutral and light colour palette, beige, pine, grey, black, silver, and white, wood accents
Door style – Slab front with no hardware
Countertop – Porcelain
Backsplash – Full height slab with minimal to no design
Elements:
– Frame-less cabinet
– Built with engineered wood, metal, and glass materials
– Integrated and paneled appliances
– Integrated lighting
TRANSITIONAL – classic and contemporary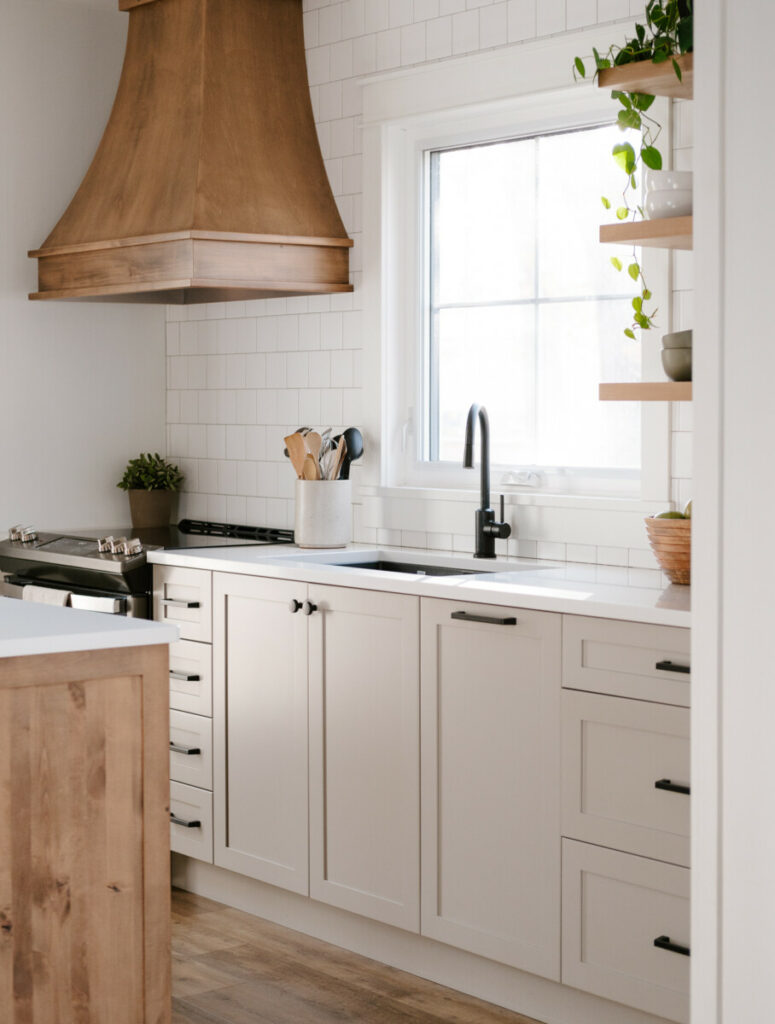 Taking off in popularity in the 1950s, Transitional design is a perfect blend of the classic, traditional kitchen and the modern, contemporary aesthetic. Fitting well with an older home renovation it can play into the charm and comfort of an older home while adding sleek modern amenities. So it comes as no surprise that the NKBA (National Kitchen & Bath Association) has predicted it to be the most popular style for many years to come.
Characteristics
Colours – Soft and neutral, deep gray, beige, green-greys, pale blue, and white
Door style – Shaker style (frequently painted) with hardware accents such as brushed gold or brass pulls
Countertop – Quartz or quartzite (commonly a waterfall countertop)
Backsplash – Simple organic tiles or full height slab
Elements:
– Cohesive design, excluding clutter and patterns
– Wood plank floors
– Mix of modern and antique decor
– Practical and vintage inspired fixtures
– Statement range hoods
– Paneled appliances
TRADITIONAL – character, inviting, and detailed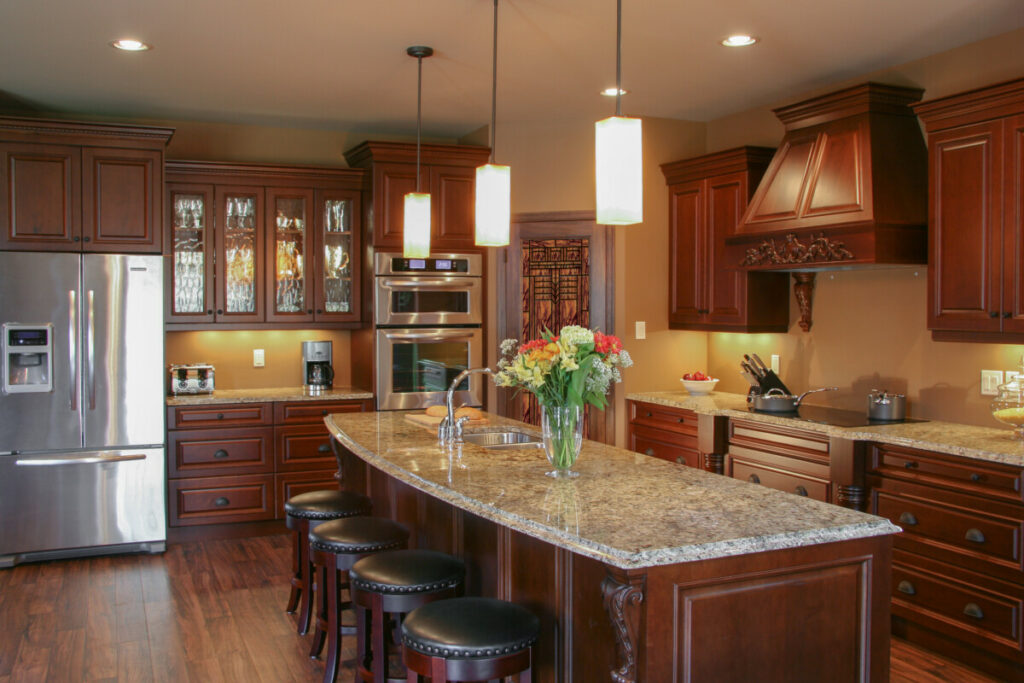 The kitchen style we know now as Traditional, originates from the 1970s-80s. This style is a mix of formal and homely all at once. The design will be the opposite of a clean lined modern kitchen by proudly boasting decorative features like moldings and raised cabinet doors.
Characteristics
Colours – Warm cream and taupe with darker wood tones
Door style – Recessed and raised panel doors, glass doors
Countertop – Granite and butcher block
Backsplash – Neutral tiles and subtle patterns, not to overshadow the cabinetry detail
Elements:
– Decorative valanced toe kicks, columns, and paneling
– Decorative range hoods
– Hardwood, stone, or tile flooring
– Vintage-like hardware with gold, bronze, or brushed nickel finish
MODERN FARMHOUSE – approachable, warm, and rustic
The modern farmhouse design we've all grown to love is inspired by the hardworking farmyard kitchen, while combining elements of modern city design. Even though many farmhouse kitchens aren't on active farmland, they still carry the same warmth and character. The Farmhouse style perfectly blends light and rugged materials, such as white cabinet doors and rustic wood beams on the ceiling, to create a warm and inviting kitchen.
Characteristics
Colours – Neutrals such as white, beige, and grey, with muted earth tones and natural wood
Door style – Shaker with matte black, oil-rubbed bronze, and brushed nickel hardware
Countertop – Quartz and/or butcherblock
Backsplash – Simple like white subway tile or hexagonal tile
Elements:
– Natural materials such as wood, brick and shiplap, mixed with metals
– Floating shelves to display vintage items
– Large cooking space
– Apron front sink
COASTAL – calming, fresh, and effortless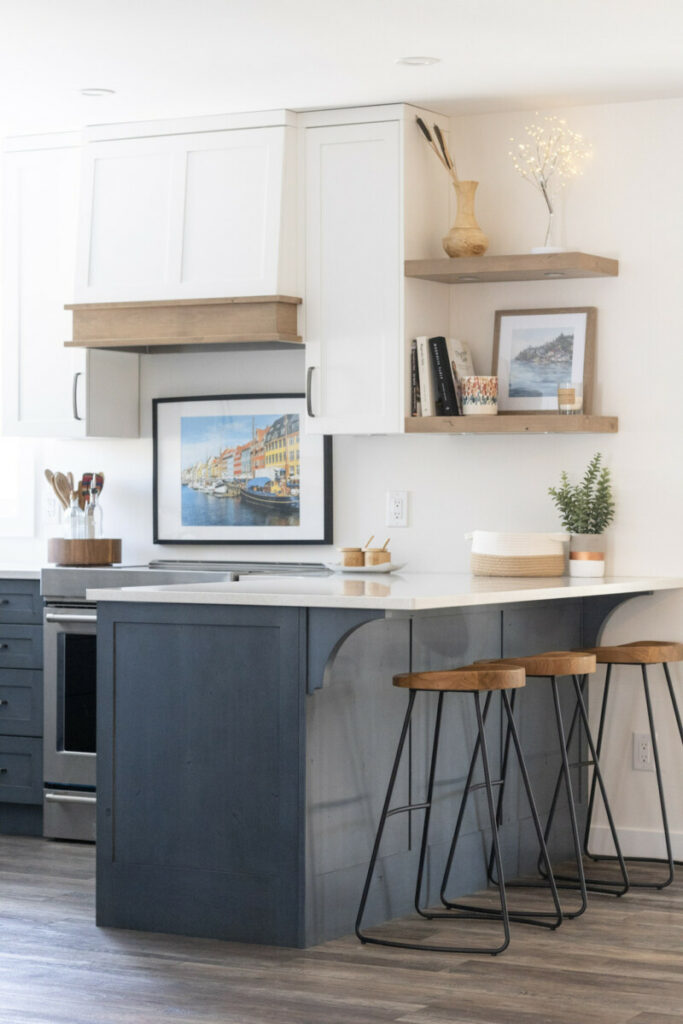 Just like you feel when you're on the beach, a coastal kitchen design should feel peaceful and not overwhelming. Elements of coastal kitchens and farmhouse kitchens tend to overlap, with simple design and natural finishes. When you walk into a well-designed coastal kitchen you should feel comfortable, relaxed, and at home.
Characteristics
Colours – Soft neutrals, white, off-white, tan, and beige accented with aqua, corals, gray, and seagrass green
Door style – Shaker with copper, bronze, brushed nickel hardware
Countertop – White quartz
Backsplash – Soft neutral porcelain or glass tile, quartz stone slab
Elements:
– Open space and natural light
– Warm wood and glass
– Large cooking space
– Pendant lighting with fabric or woven shades and metal finishes
Now you're an expert in all the different kitchen design styles! Not every kitchen will fall exactly into one category, but I hope this help you further discover your style when working with your designer.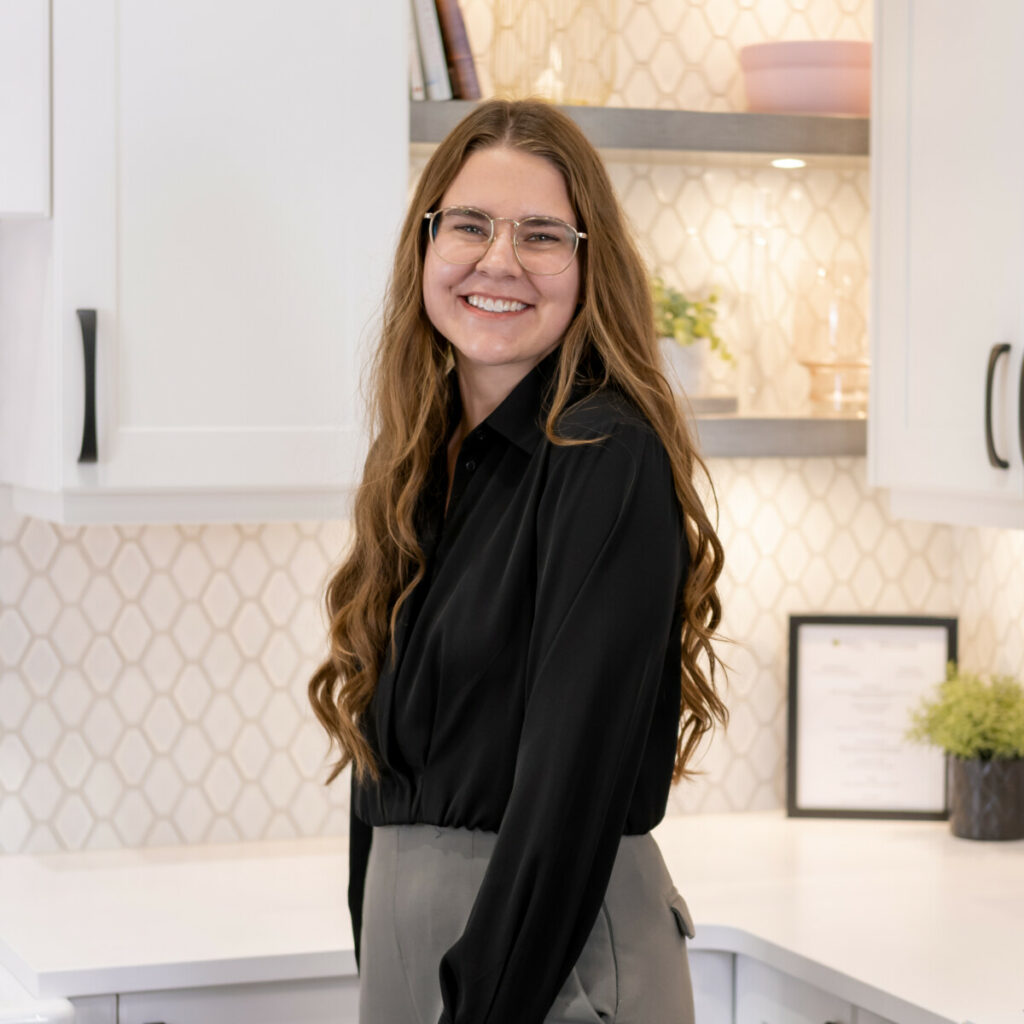 Joanne Penner
Joanne joined the Winnipeg team as the project coordinator in 2022. When she's not keeping the Winnipeg team on schedule, she can be found (with a coffee in hand) capturing images of their beautiful kitchens and managing the Two30Nine social media.
RECENT POSTS PICKED for you