The Art of Styling Your New Kitchen
Tips on how to style your new kitchen for better use in your every day life, while still creating a beautiful space.
Now that your new custom kitchen has been installed, it's time to style your kitchen!
The kitchen is the heart of the home and it's important to accessorize it in a way that feels like home to you.
Before we get into the items to use, there are a few things to keep in mind. When placing items on your open shelves or counters you want to pay attention to the height and depth of the pieces. You will want a good mix of tall objects and smaller objects. For example, instead of lining up mugs and cannisters all at the same height, add a cutting board behind the mugs, place a plant next to them, or stack some bowls on top of a couple cookbooks. This creates a nice variation in height.
When is comes to choosing items to put on display, there are three different categories we recommmend thinking about.
Keep it practical with every day items – plates, bowls, mugs, cookbooks, jar of utensils
Using your best plates, bowls, cake stands, teapots, and mugs is one of the best ways to utilize floating shelves. Decorating with stacked dishes you use every day makes these items easily accessible while also filling the empty space, making it a win-win!
A mix of cutting boards and display boards adds an element of warmth and texture. Secondly, they give height to your styling, which is essential in creating a well-balanced space. Leaning your boards together in sets of twos or threes create a great focal point while also being easily accessible for everyday use. Use a variety of sizes, tones, and shapes to create intrigue.
Using cookbooks is a great way to add height to your styling, either by stacking the cookbooks underneath a smaller item or leaning them against the wall.
Tip: place your cutting boards or cookbooks in front of that outlet you don't use!
Use your ingredients – food canisters, greenery or herb garden, salt and pepper grinders, fruit bowl.
What better way to style your kitchen than with the products and ingredients you use every day!
Adding a touch of greenery brings colour and life to the space and to make the most of the functionality of the space, think about bringing in a small planter of fresh herbs. This doubles as décor while also adding freshness to your cooking!
Using a group of two or three food canisters in varying heights is an easy way to bring in different texture, height, and style to your space. In these cute glass or porcelain canisters you can keep your tea, coffee, or dried goods all easily accessible on a shelf.
Switch out your salt and pepper shakers for salt and pepper grinders. These are an easy way to add height and elevate your kitchen counter. To keep things interesting find a set that contrasts with your kitchen's backsplash.
Placing fruit in a pretty bowl bring a fresh pop of color onto your countertop. If you have larger items taking up space on the countertop, like appliances, opting for a shallower bowl creates more diversity in height. Plus, having fruit easily accessible on the counter is never a bad idea. ; )
Add some personality! – art, handmade items, antiques
This is your home, so it should look and feel like you live there! Adding personal items makes it feel like a home, and not a show home.
Here are a few ideas of pieces to use:
Artwork – photos of a place you've traveled, hand painted pieces, or a family photo
Handmade pottery
Unique pieces found at local markets
Antiques – cake stands, wicker baskets, weigh scales, clocks,
Family photos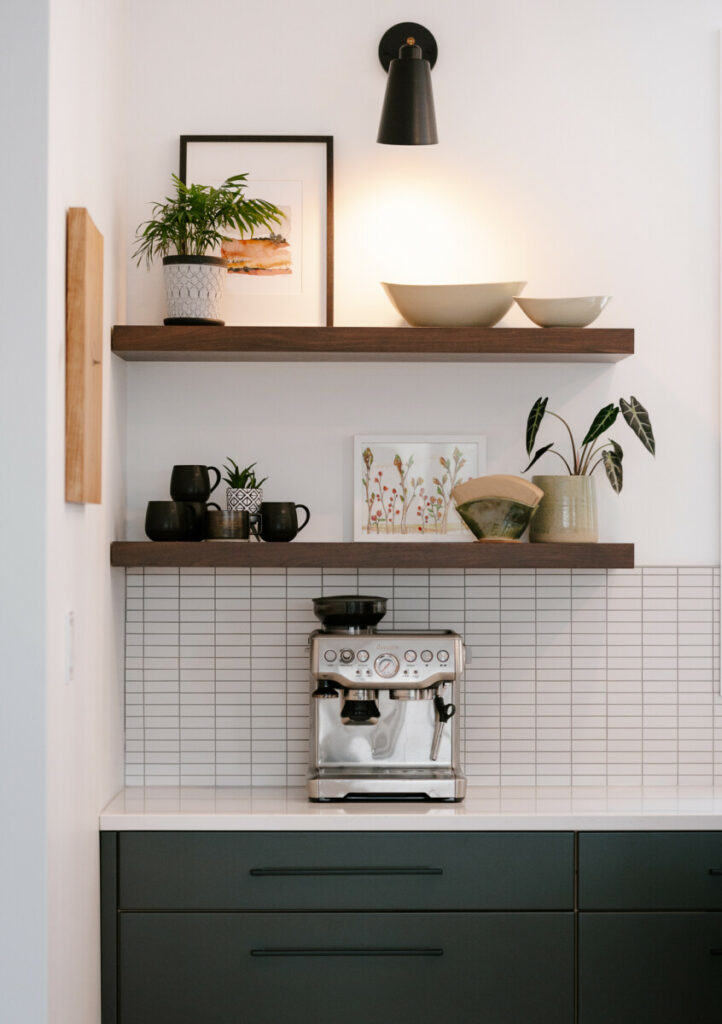 Bonus Tip: In many smaller kitchens our appliances are housed on the countertop, why not think of those items as a decorative item! When choosing small appliances like kettles, toasters, coffee makers, and mixers think of how they can bring a pop of color and intrigue to the space.
Unlike the perfectly styled kitchens you see on Pinterest and Instagram, your kitchen is used every day! With the busyness of life, it's important to keep your kitchen surfaces functional, but it's also important to create a beautiful space you will enjoy spending time in. I hope you found a few of these tips inspiring to use in your own kitchen!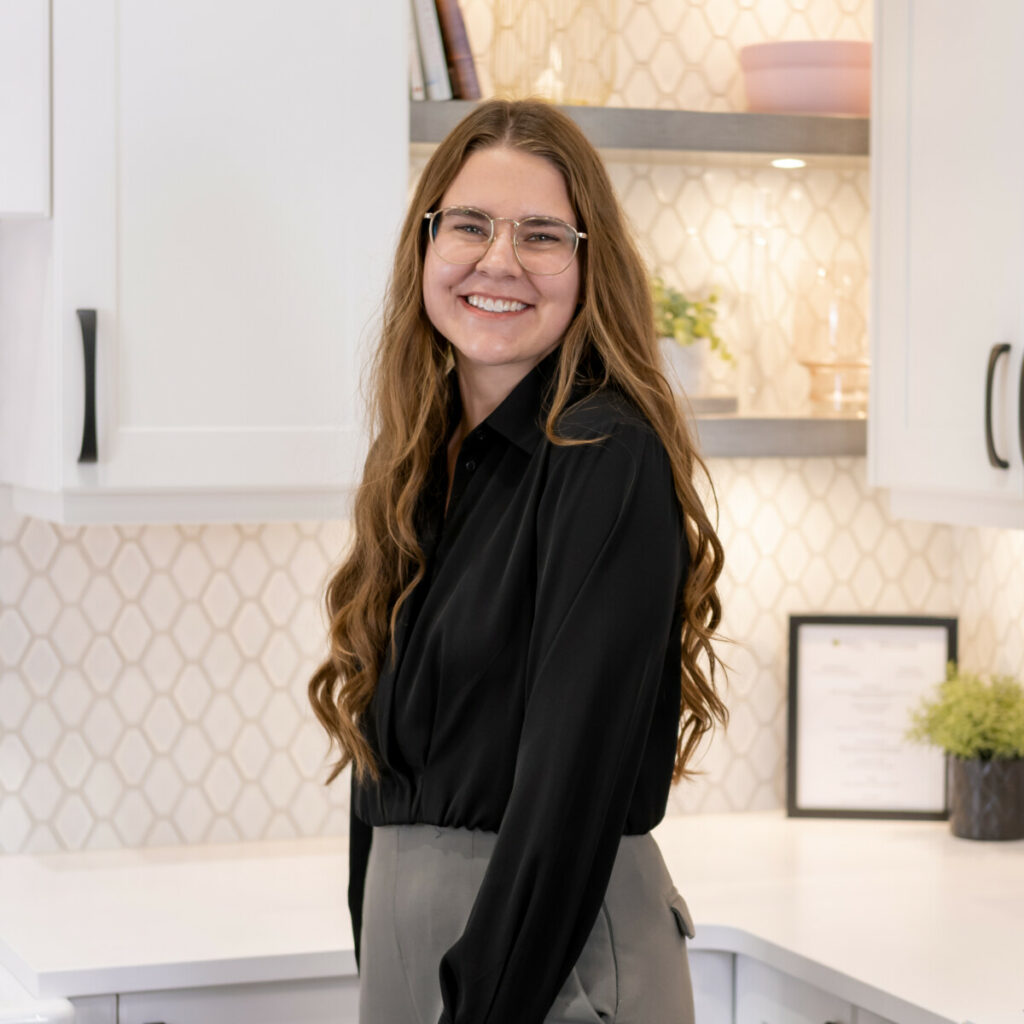 Joanne Penner
Joanne joined the Winnipeg team as the project coordinator in 2022. When she's not keeping the Winnipeg team on schedule, she can be found (with a coffee in hand) capturing images of their beautiful kitchens and managing the Two30Nine social media.
RECENT POSTS PICKED for you