Tips for Pet-Friendly Spaces
How to make your space paw-fect for you and your furry friends.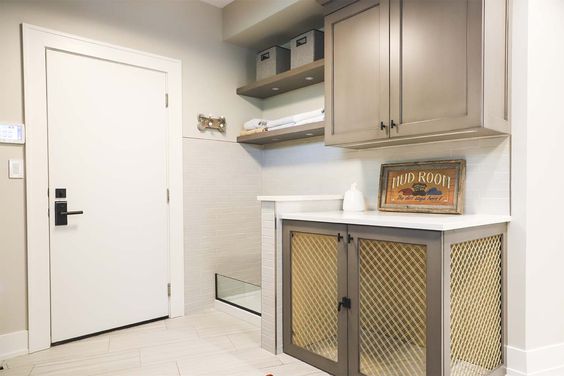 Does your family include a four-legged member or two? If so, you are part of the 60% of Canadian households that have at least one cat or dog according to numbers released in September 2022 by The Canadian Animal Health Institute. That translates to more households with pets in the home than with children at home based on 2021 census data. It is then no surprise that when pet owners are choosing to build or renovate, they are doing so with their furry companions in mind.
How can you make your space work best for you and your pets? Incorporating custom cabinets & storage accessories that cater to pets into projects can maximize the efficiency and beauty of the space for you both. Here are a few of our favorite pet friendly cabinet ideas:
A little privacy, please
Our feline friends value their own space, and a hidden spot all their own is always a hit. Be it a quiet place to nap, a safe place to eat away from larger animals or an out of the way spot to keep the litter box.
For the pampered pup
A custom dog shower can be a life saver when returning from a walk or trip to the dog park– especially in Winnipeg when the spring melt starts! Upon entry into this mudroom, you can get Fido cleaned up in no time. This custom built-in kennel cabinet designed for our client provides a safe and cozy place for a pup to hang out while you're away.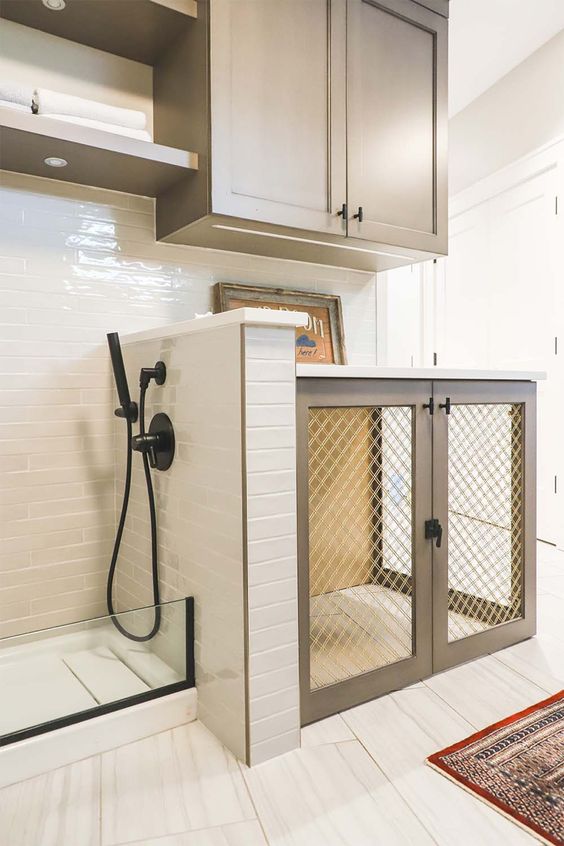 Dinner time!
While a custom pet feeding station can take many forms, it can be a worthwhile inclusion in your project. The end of an island or a run of cabinets offers a nice spot to tuck away food dishes so they don't get tripped over. These areas can be fairly simple with a recessed alcove to place their bowls, or an elaborate focal point dressed in marble – complete with built in water supply! These easy to access and wipe down areas can integrate beautifully into a cabinet design and provide your pet with constant access to their food and water.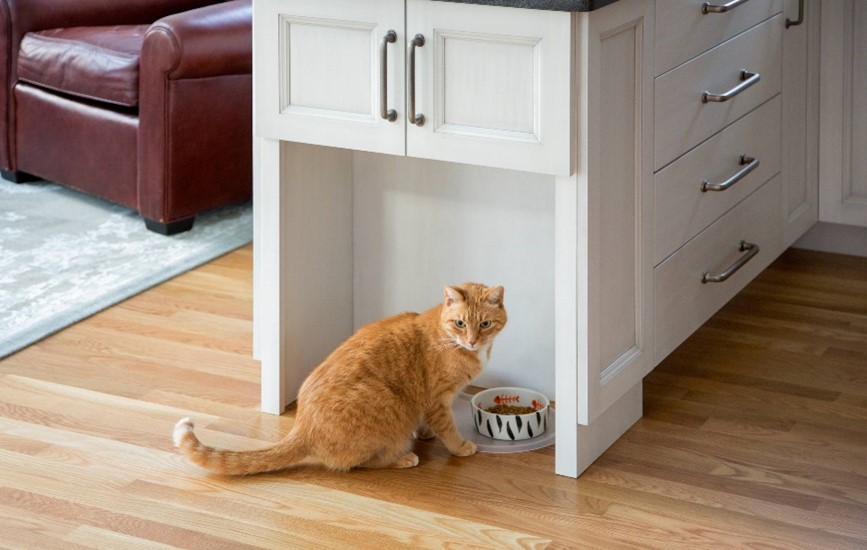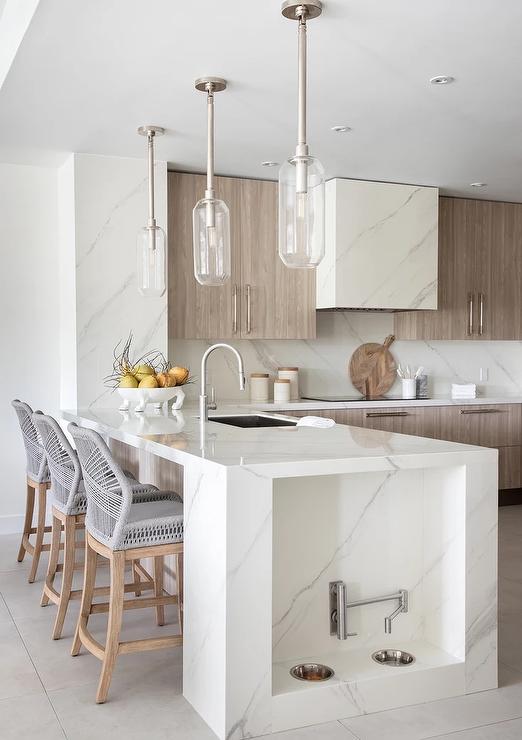 Storing all your pet food, treats & accessories in one organized place will streamline feeding time for you both – a great thing if you've ever tried to feed a screaming cat while making it out the door on time! Custom cabinet accessories can be used in creative ways as ground zero for all of your pets' items, such as this pull out from Rev-A-Shelf that they feature as a storage solution for dog food, treats, grooming supplies & leashes.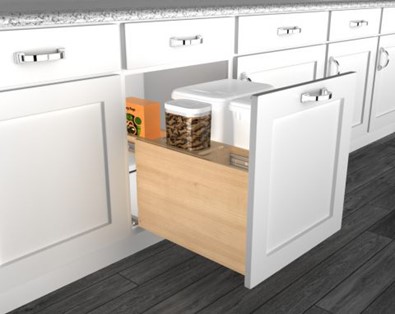 Best seat in the house
If you've ever tripped over your cat in the kitchen when making supper or had your dog doing laps under the table, you may want to provide them with a little spot of their own. Usually, your pet just wants to be near you, and giving them a custom area to hang out & watch the action or have a nap can be just the thing to keep everyone safe and happy.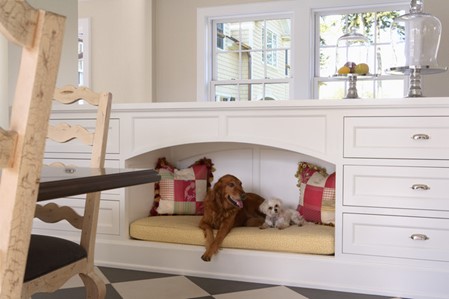 It has been well documented that dogs, cats and other animals provide us with many benefits, such as companionship and helping us cope with stress. Given all that they do for us, planning cabinet areas in the home around them will make sure that everyone gets their needs met and is happy sharing the spaces together.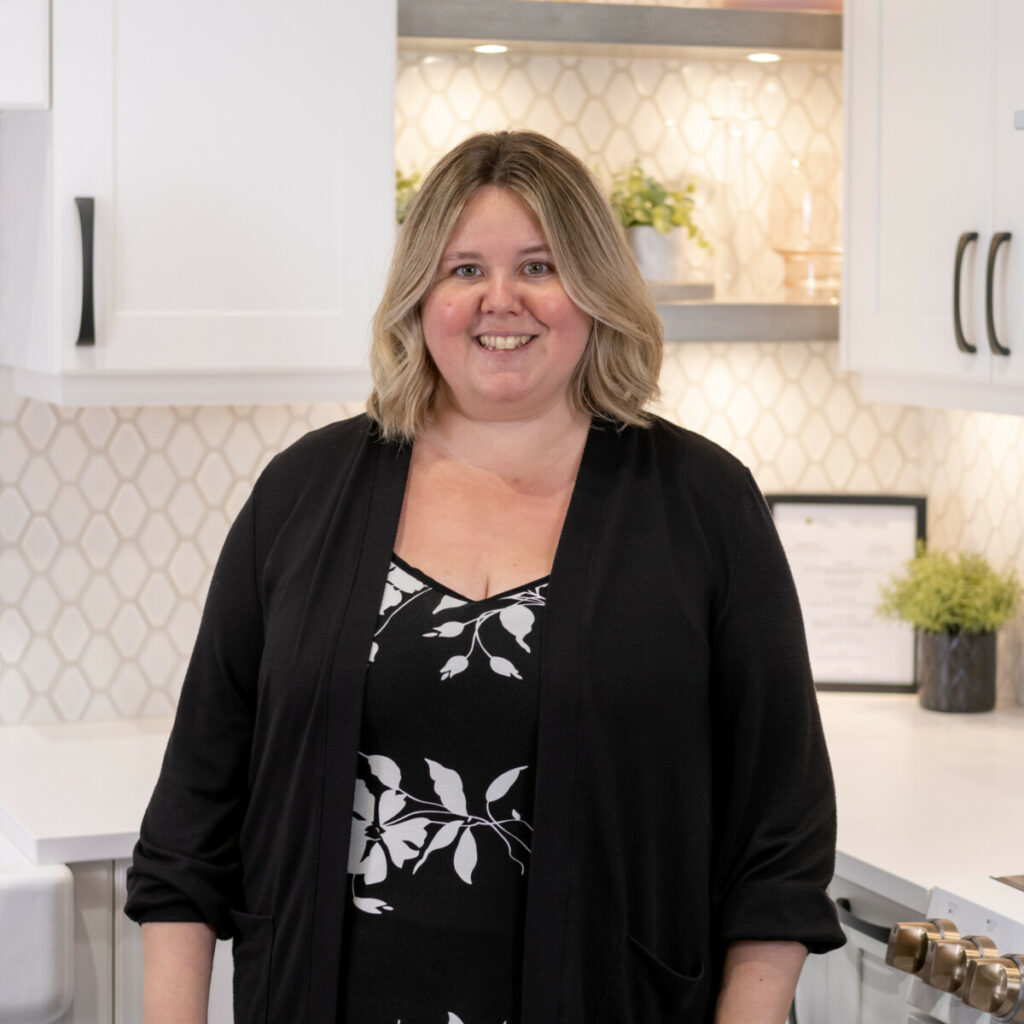 Candace Rudd
Candace has been assisting clients with their cabinetry needs since 2005, and in that time has worked on projects of all sizes in both Manitoba and Ontario. She is proud to hold the Certified Master Kitchen & Bath Designer (CMKBD) designation with the National Kitchen & Bath Association.
RECENT POSTS PICKED for you