9 Kitchen Island Design Features We Love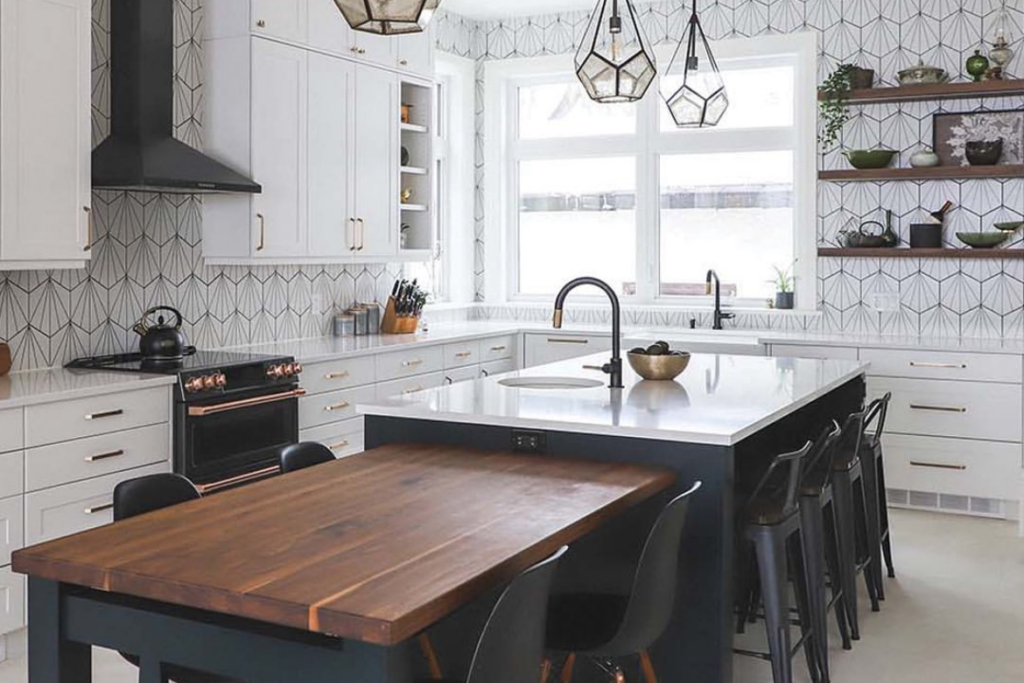 When purchasing a new kitchen, many people consider it a requirement to include an island. An island is one of the most versatile areas in a kitchen. It can be your prep station, a serving area, a place to entertain and so much more. As kitchen designers, we love incorporating interesting features to add personality to your space. When you're planning your renovation, consider these design features for your island.
1. Waterfall Edges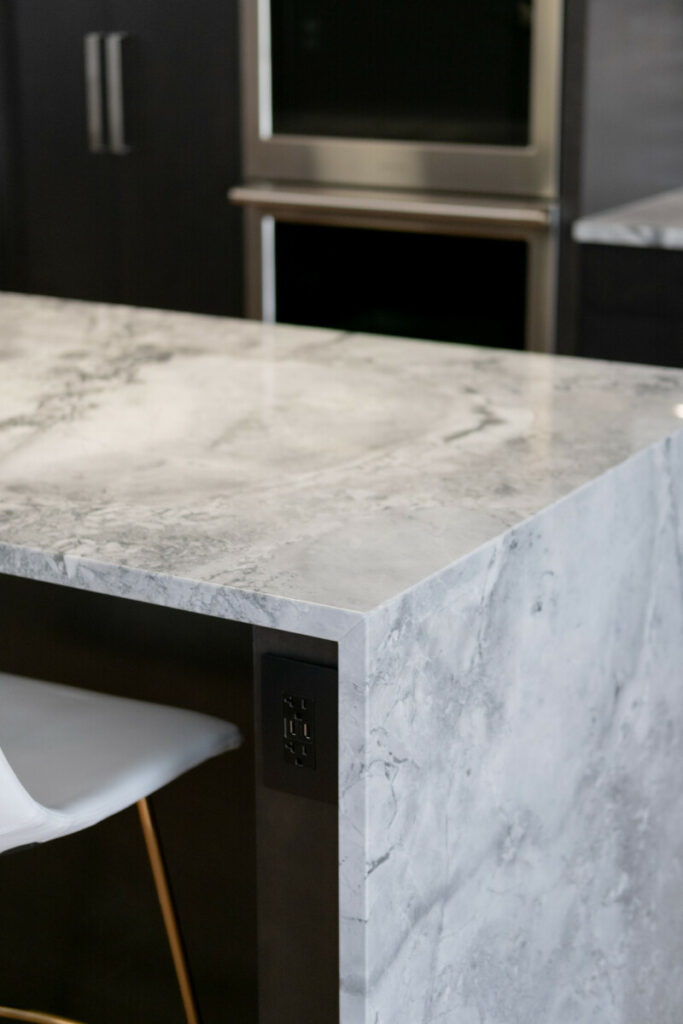 If you are looking for a modern, luxurious design detail, incorporating a waterfall edge is one way to achieve this. This feature can be achieved by installing a piece of the countertop material vertically along the side of your cabinets. This creates a stunning cascade effect that will elevate your design and create a beautiful focal point. If you want to make the island look even more custom, you can take it one step further by lining the inside of the waterfall to match your cabinetry.
2. Design the Back of Your Island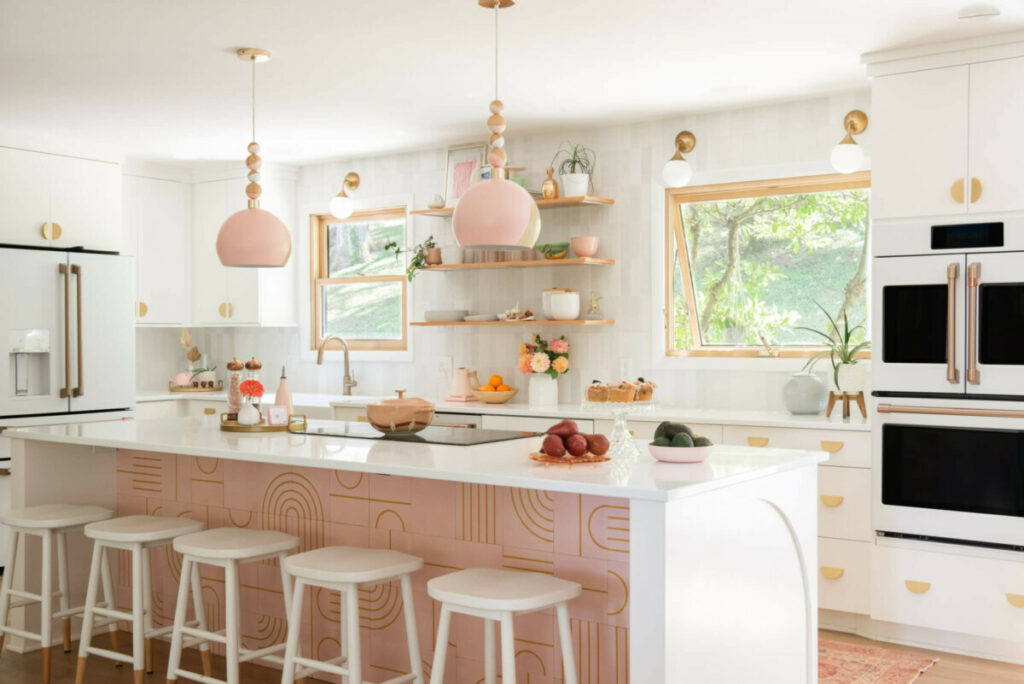 When you meet with your kitchen designer, you may want to consider using back of the island as an opportunity for an eye-catching feature. You can keep it simple and use a panel to match the rest of your cabinets, or you can choose to go with something more decorative. Using a fun tile can add a splash of colour to the kitchen.
For a more subtle look, you could use a textured panel in a matching colour. If you're island is deep enough, you could even add more cabinets to add some detail and get extra storage!
3. Open Storage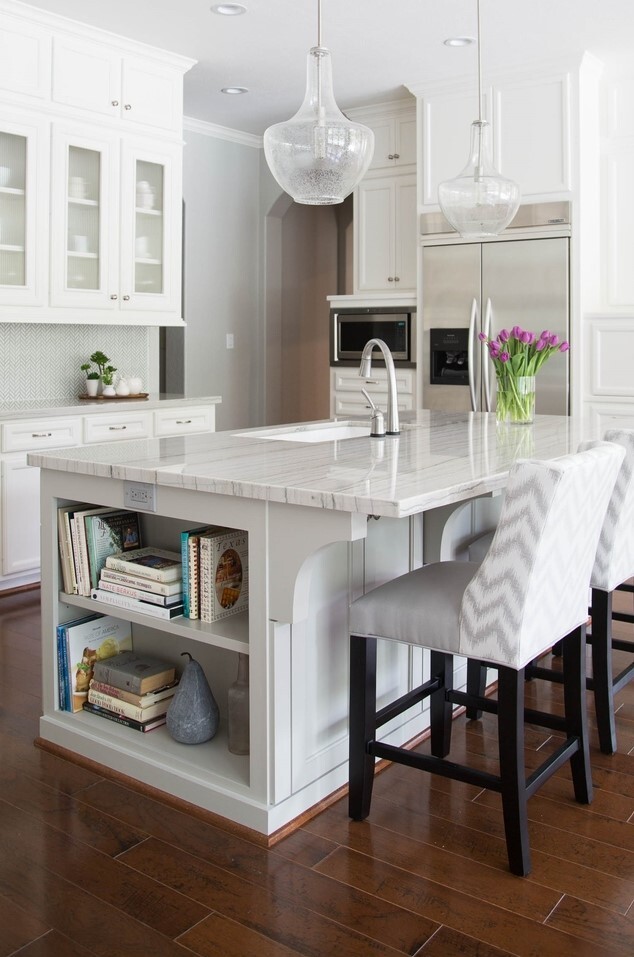 Adding some open shelves to your island can be a great design feature without losing the storage space. You can store cookbooks so that they are close by when you need them or use it to display some of your favourite dishes. Show off some decor pieces or switch it up and use some baskets to keep things organized.
4. Decorative Base Moldings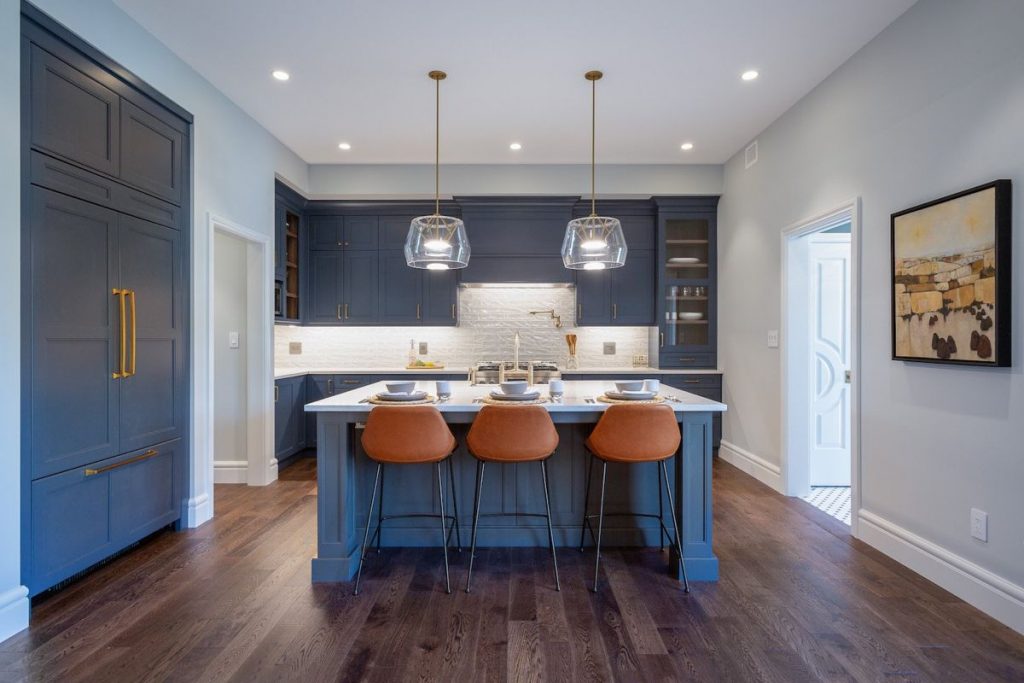 Small details can make a big difference in a design. Adding furniture base molding along the bottom of your cabinetry will elevate your design one step further. The molding mimics the look of typical baseboards and gives a very finished look to your island. You can go for a simpler look with a plain molding, or you can use a decorative molding if you're looking for something more traditional. We think adding this detail can give any island an instant upgrade!
5. Banquette/Dropped Seating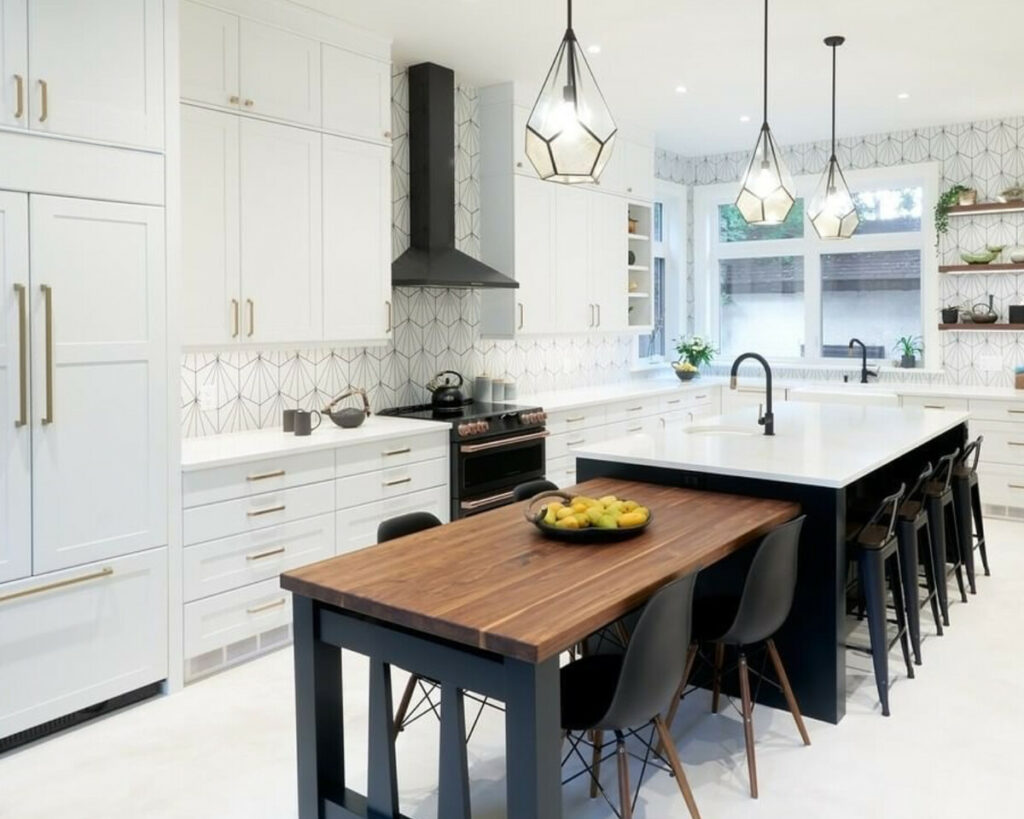 Bi-Level islands can be very useful if you want a nice seating area right in your kitchen. Including a custom dropped section is great if you prefer to have seating spaces that face each other, compared to an island where you would typically sit in a straight line. Additionally, the lowered section can provide a more ergonomic prep station for tasks such as hand mixing ingredients or rolling out dough.
6. Dropped Edges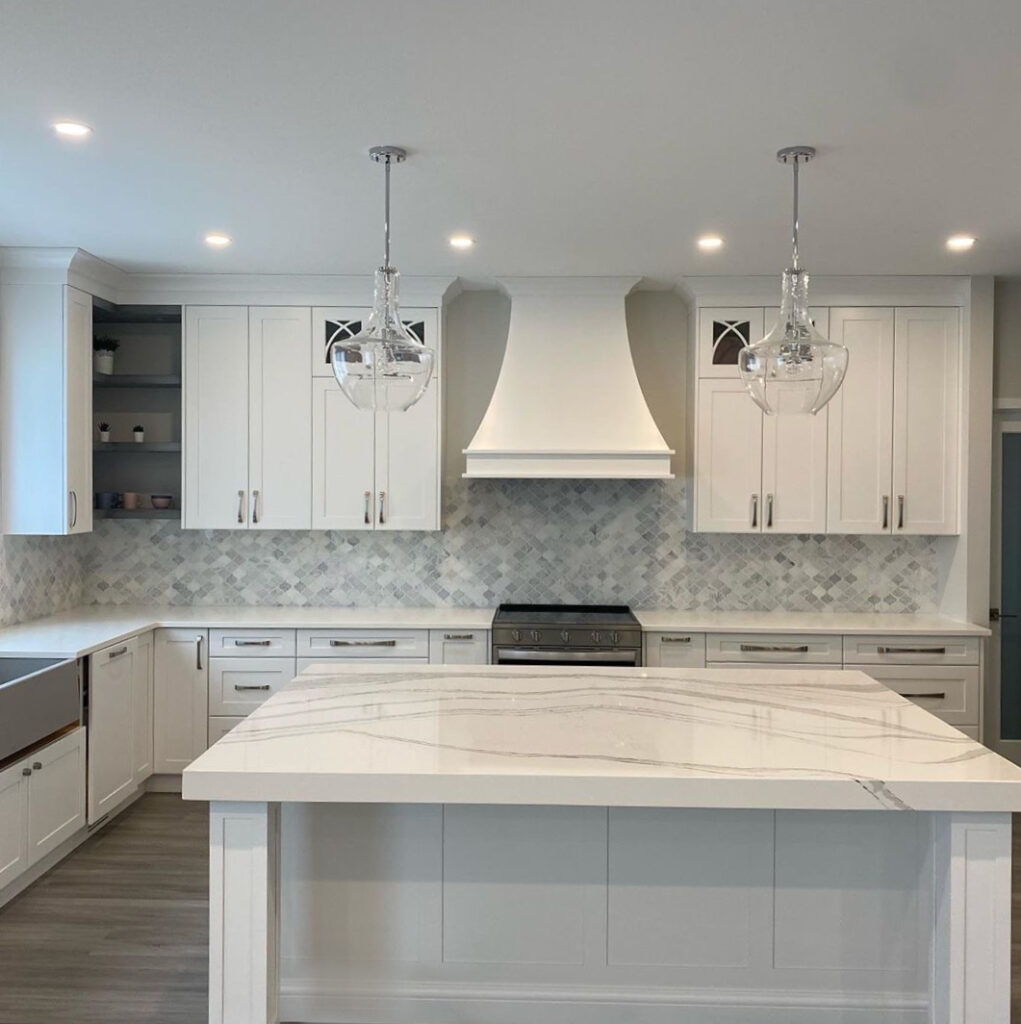 Want a dramatic detail for your kitchen counters without doing a full waterfall edge? Mitered dropped edges may be just the thing you're looking for. To achieve this look, fabricators can miter pieces of countertop material and attach them perpendicularly to each other, making the countertop appear much thicker than it actually is. This method works well with quartz or porcelain material to make a statement in any kitchen.
7. Floor to Ceiling Feature
If you want to include something out-of-the-box, you can use various heights to create something eye catching. These custom features can be added to achieve a specific look or could be built to be functional. Maybe you have to conceal a structural post, so why not build a beautiful custom shelf unit? Whether you are focused on a decorative feature or functional piece, we love how unique these spaces look.
8. Prep Sink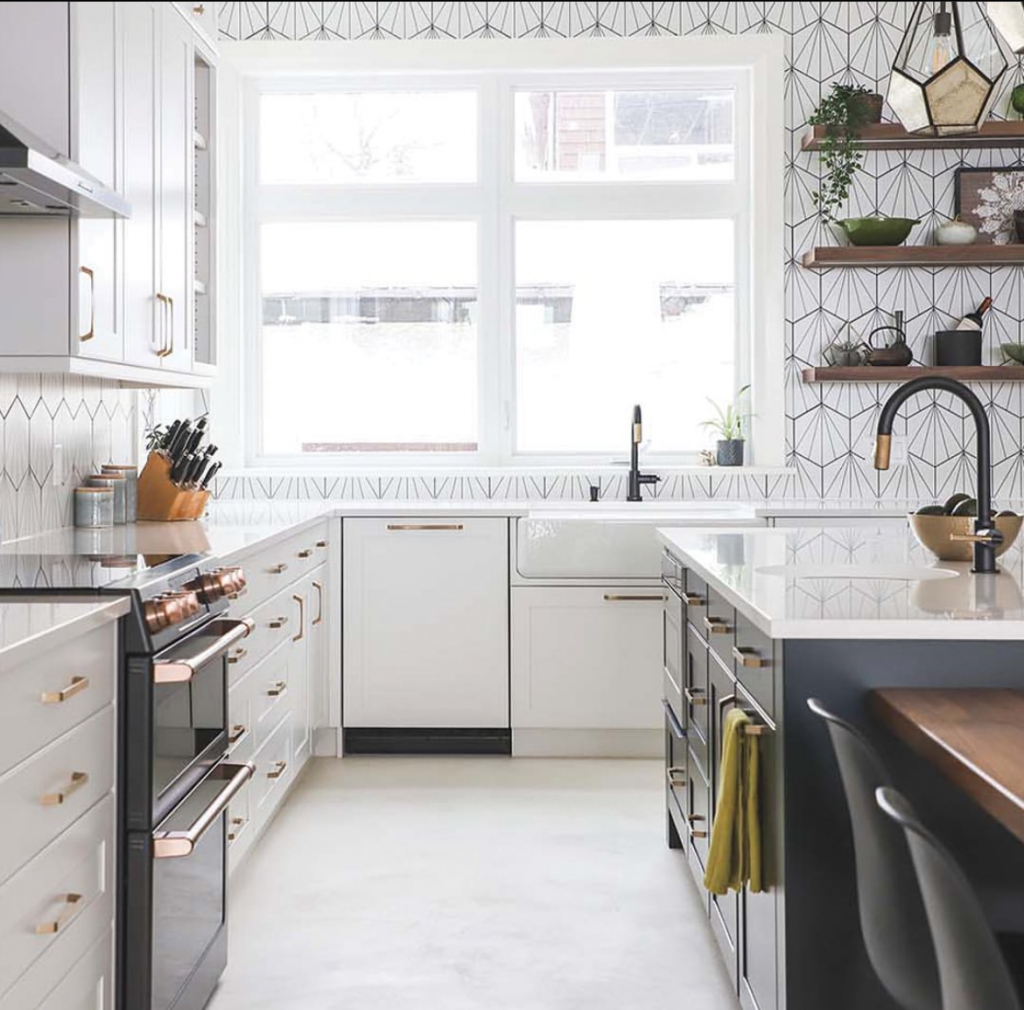 If you have the space, a great way to make your island even more functional is by adding a second sink. Do you like hosting people? Making large meals? Maybe you like to have more than one person cooking. Having a prep sink in the island allows you to keep your prepping and cleaning zones separate. So, two people can prep and cook much more comfortably in the space.
9. Garbage Pullout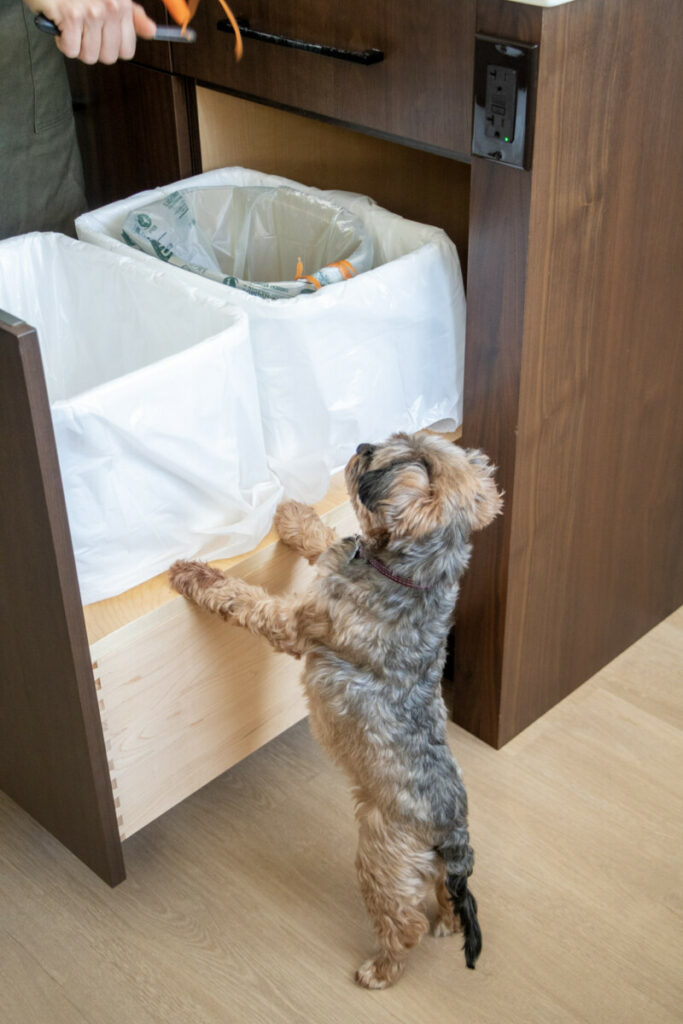 One of the best things about having an island is that you have a great space for prepping & cooking. With our selection of accessories, you can customize your island to have everything you need. One of our favourite cabinets to include is a waste pull-out. Adding one of our waste pull-outs to your island is a great way to have your garbage hidden away, and still have it easily accessible to you when you need it.
There are many considerations to think of when you're deciding how you want your island to look and function. If you're working on a project and want to look at options, contact one of our designers here!
RECENT POSTS PICKED for you