How to Choose the Right Countertop for Your Kitchen
Selecting a surface that meets your needs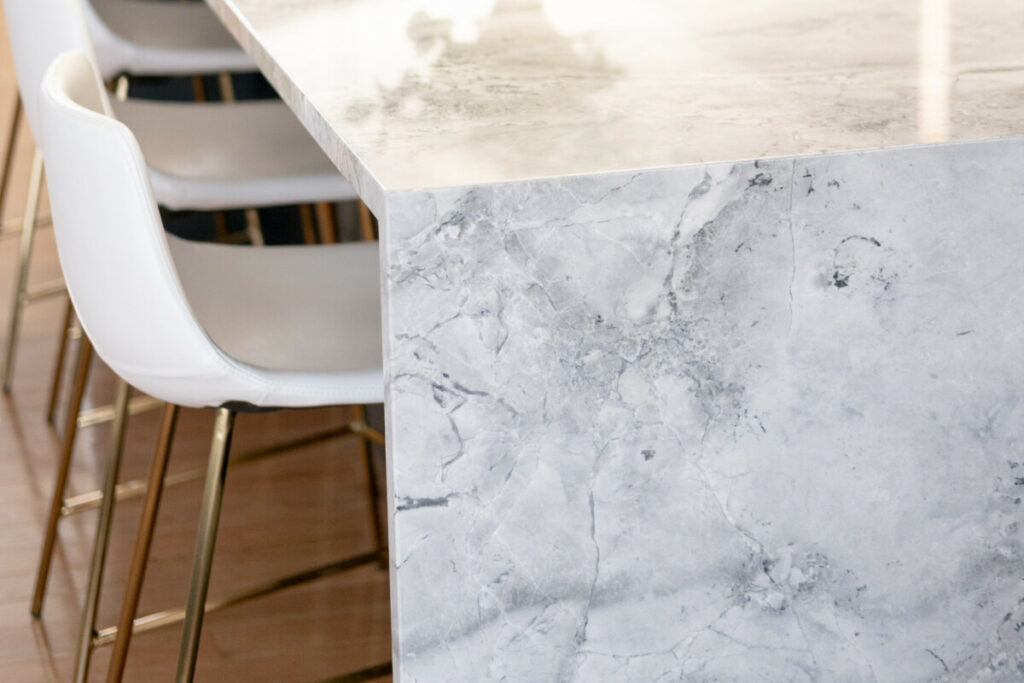 Picking the finishes of your kitchen is one of the most exciting parts of the design process. However, with so many options for solid stone countertops out there, choosing the right one can feel like a daunting task. We are here to help! Natural stone, Quartz, and Porcelain are clearly the most popular choices in our market lately. These three products have different characteristics and choosing the ideal surface is all about finding what suits your priorities and preference.
Granite & Quartzite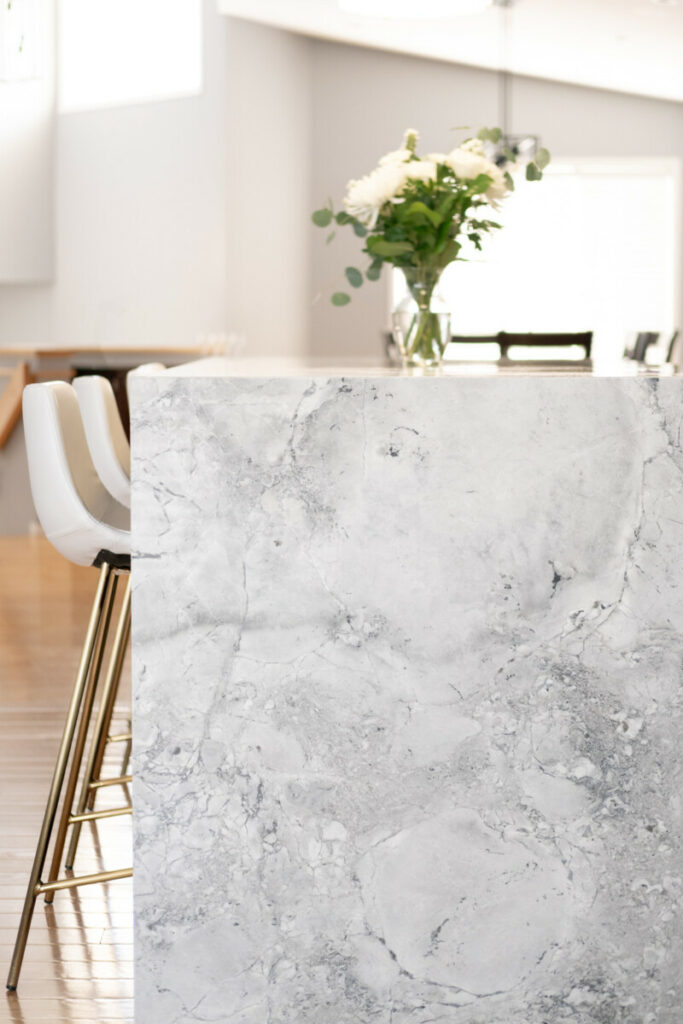 Super White – Quartzite
Pros:
Unmatched natural beauty.
Completely unique and dimensional patterns.
Holds up well to heavy use.
Cons:
Requires occasional maintenance to avoid staining.
Material: Granite and Quartzite are completely natural. The material is quarried in blocks and then sliced into slabs.
Durability: As a natural material, these countertops have a porous surface that requires maintenance to avoid staining. The slabs are often sealed before installation, but require additional coats of sealant as time goes by. Heat resistance is high, but extreme temperature changes can result in cracks.
Finish: A range of finishes are available that vary from polished to leathered. In terms of pattern, no two pieces are exactly alike. Due to the popularity of speckled granite in past decades, many people don't realize that natural stone is available in a wide variety of patterns and colours. Granite and Quartzite are available with directionally veined patterns that can look more marble-like. Common slab thickness is 3cm.
Quartz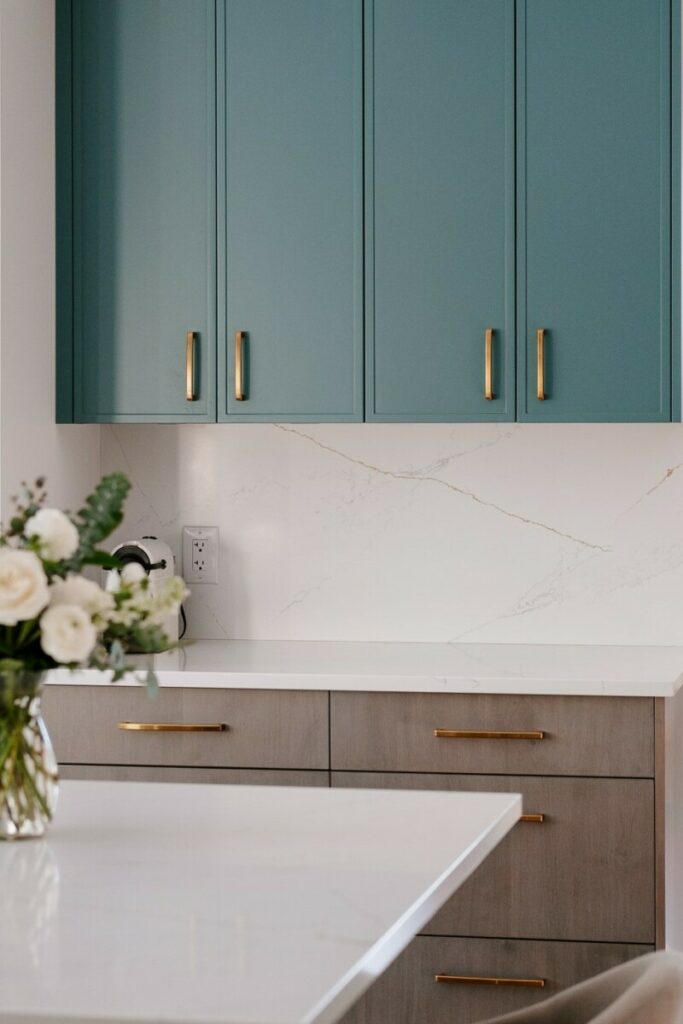 Ethereal Glow – Silestone
Pros:
High class look.
Huge range of brands and patterns.
Less susceptible to staining and marking.
Cons:
Quality varies based on brand and composition.
Man-made product does not have the same uniqueness and dimension as natural stone.
UV light can discolour lighter patterns over time.
Material: Quartz countertops are a synthetic product. Quartz is mined and powdered, then the surface is formed using binders and pigments. Look for a reputable brand where the composition has at least 93% quartz (7% binders). This means the surface will be more resistant to stains and should have a good warranty behind it.
Durability: Quartz is non-porous – all of the air is extracted during the forming process. This means lower maintenance, but some care should be taken when working with kitchen ingredients that are known for staining – especially with lighter countertop colours. Not heat resistant – hot pans can cause damage to the resin in the countertop.
Finish: Many brands offer patterns in a polished or matte finish. Common slab thicknesses are 3cm or 2cm.
Porcelain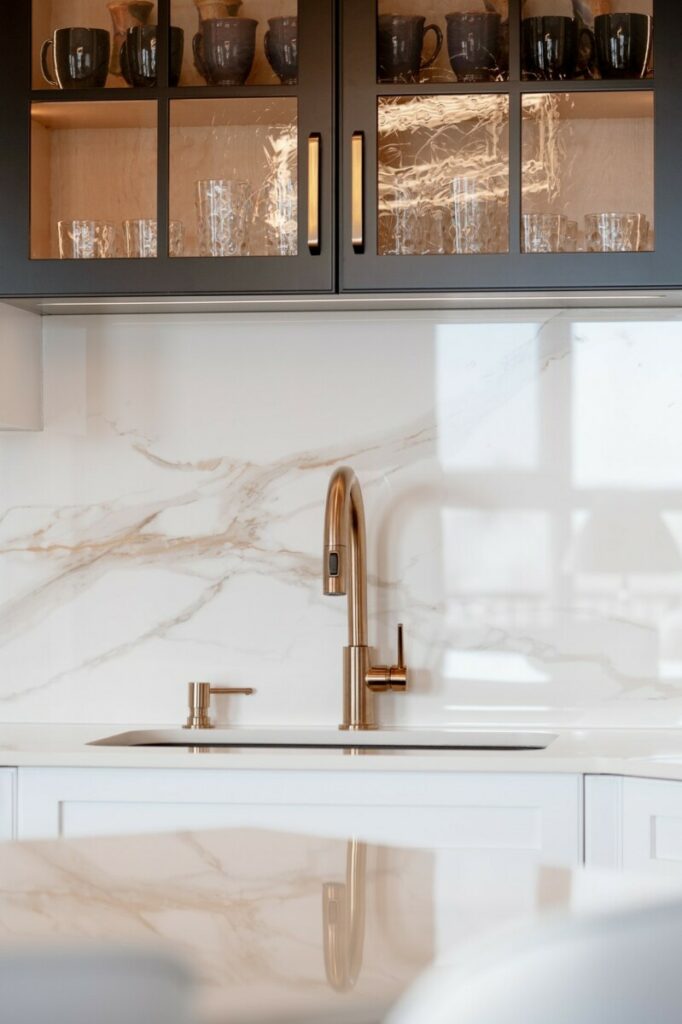 Calacatta Gold – Infinity Surfaces
Pros:
Elevated modern look.
Completely heat resistant and non-absorbent making it food-safe and hygienic.
Combines aesthetics and technological advancement for a sophisticated product.
Cons:
Pattern and finish quality varies based on the brand.
Fewer edge styles available due to thinness of slabs and no through veining.
Material: You may also see Porcelain referred to as sintered stone. These countertops are man-made with completely natural materials and minerals like quartz, feldspar, and kaolin. There are no synthetic binders. The slabs are compacted at extremely high temperatures to create a dense, solid surface. Since porcelain is made using 100% natural materials, it is considered environmentally friendly, and can be recycled after it's life in your kitchen.
Durability: Will not be affected by heat or acid. Highly resistant to wear and scratches. Some porcelain brands boast that you can prep food using metal knives on the surface, and would only dull your knife blade.
Finish: Various finishes available such as gloss, velvet, and textured. Slabs are available in very thin sizes and can be used for wall and floor cladding or even as cabinet doors.
| | | | |
| --- | --- | --- | --- |
| | Natural stone | Quartz | Porcelain |
| Heat resistance | •••• | ••• | •••• |
| Scratch resistance | ••• | ••• | •••• |
| Stain resistance | •• | •••• | •••• |
| UV resistance | ••• | • | •••• |
| Price | $$+ | $+ | $$+ |
Countertop selection is a very important step in the kitchen design process. Based on your choice, it may affect your cabinet colours, or the details of your layout – especially if there are seams to consider, or a special thickness to take into account. Rely on the expertise of your kitchen designer to help you navigate the process, and prepare for the ultimate reward on countertop installation day when your kitchen is transformed!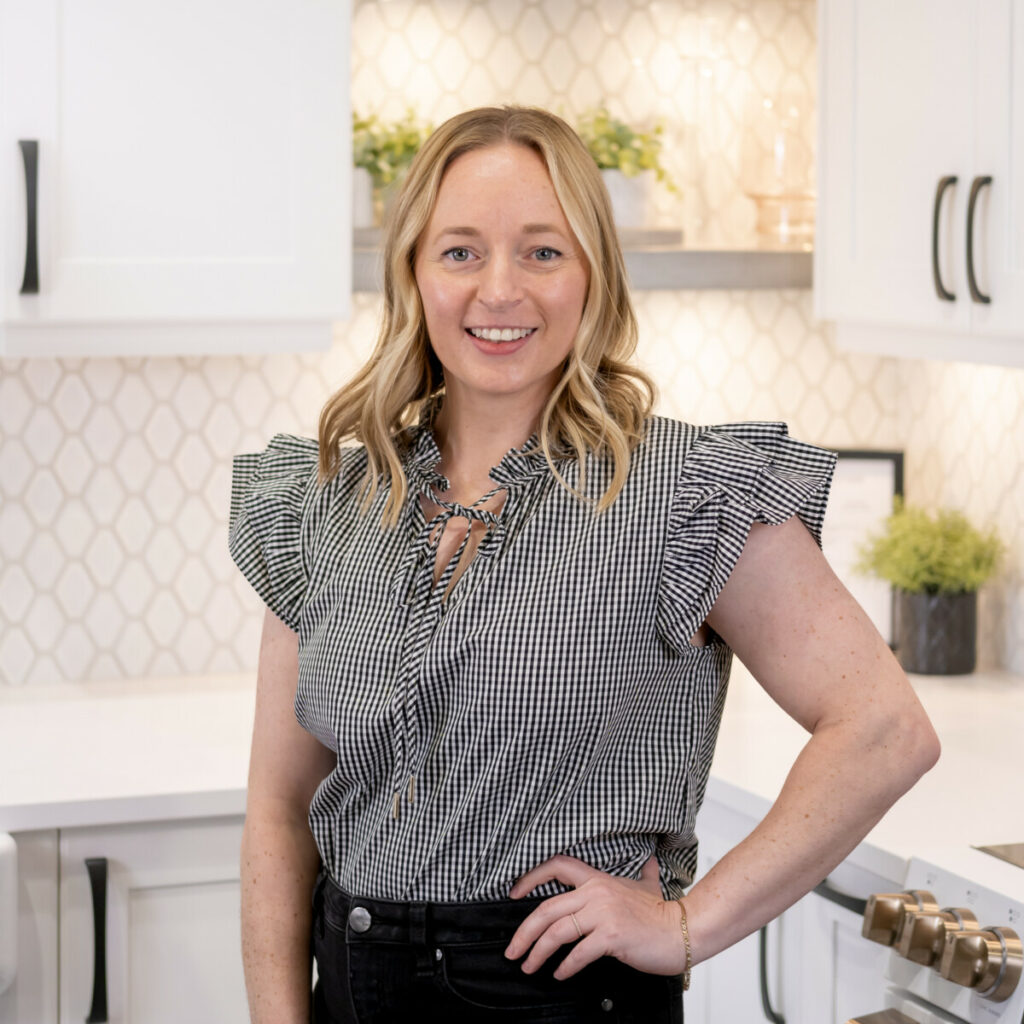 Julia Peterson
Julia got into kitchen design in 2017 after completing her bachelor's degree in architecture at the University of Toronto. Her passion for design and home improvement is a lifestyle – living and breathing renovations, she is always working on something in her own home along with her husband and 3-year old son.
RECENT POSTS PICKED for you