Where to Splurge vs. Where to Save in Your Kitchen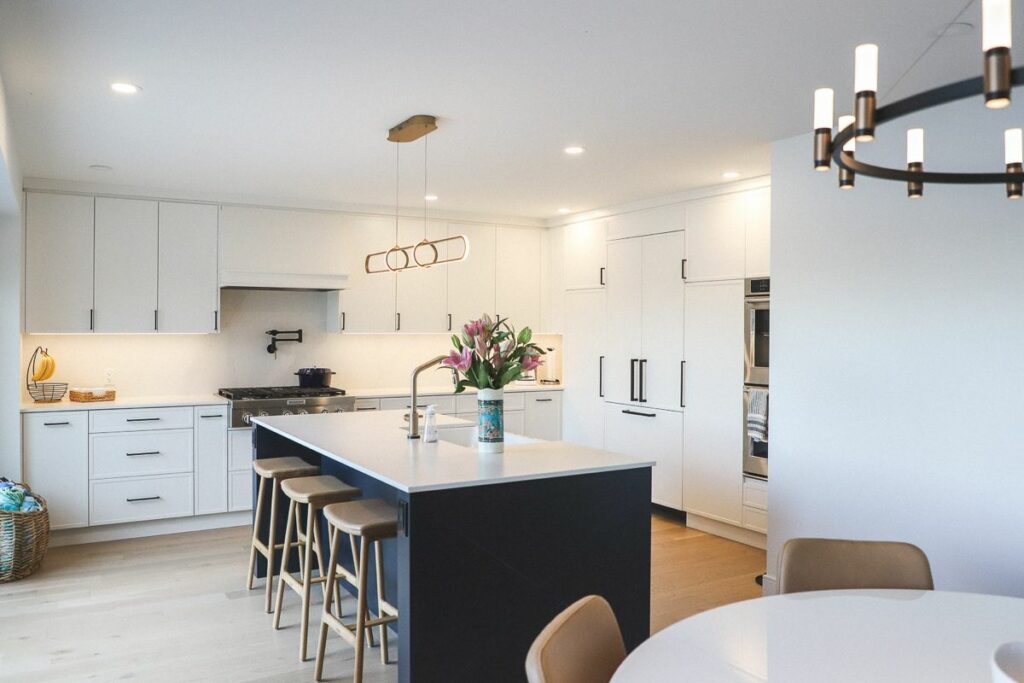 We all know that a kitchen renovation, while a great investment in your home, can often carry a high price tag when all is said and done. While we all want to get as many items from our wish list as possible, it's a reality that we all have a budget to work with. Here are some tips and tricks of where to spend, and where to save, in your project.
Splurge – Quality Cabinetry
It's no secret that often cabinets can eat up a large share of the budget when it comes to a new kitchen. However, not investing in quality cabinets to get that number as low as possible can be a costly mistake down the road. A quality cabinet with a strong warranty behind it will give you peace of mind for years to come so that your kitchen will stand the test of time. Lower quality cabinets that start to fall apart after a few years will be costly to replace, because doing so will often involve disruption to countertops, backsplash, flooring, paint, etc. If you invest in a quality product, it will act as a foundation for years to come and allow for other lower cost items to be replaced in the future to update the look of the space easily.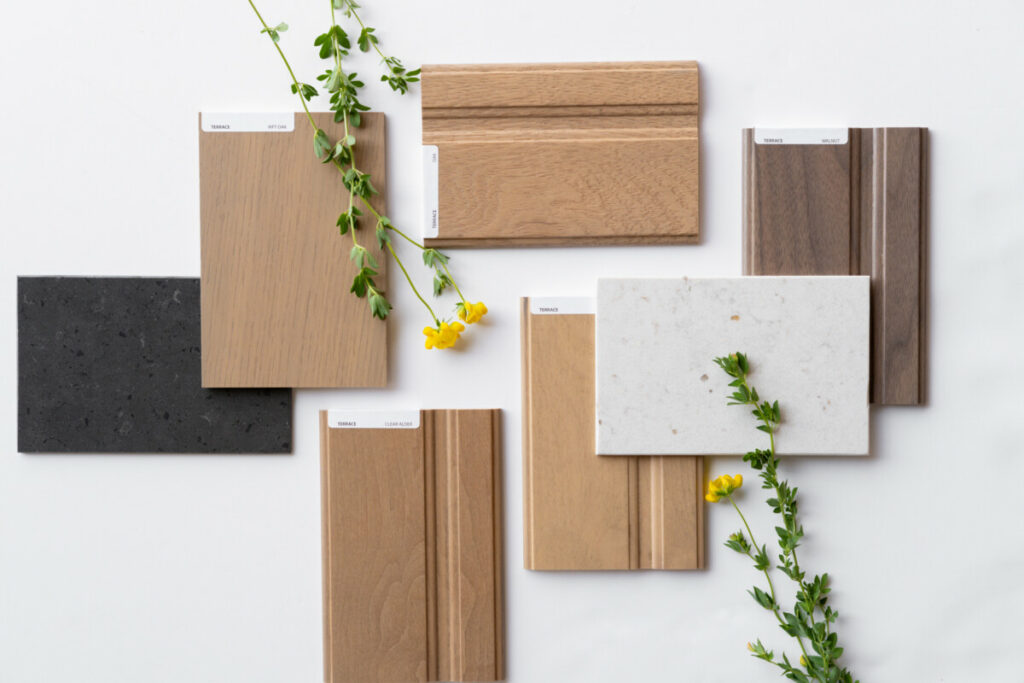 Save – Door Material
There are many options on the market when it comes to the material that can be selected for your cabinet fronts. There are also many price points for the different options to consider. If you are looking to save some cost, consider using Alder instead of Cherry for a very similar look. Oak is a strong, durable option that is at the lowest price group and offers many options other than the golden stain that most people associate with it. Melamine can be another cost-effective option that offers many finish choices along with high durability.
Splurge – Stone Countertops
The beauty and durability of a stone countertop is undeniable. The price point of stone can be as varied as the number of colors available. Quartz countertops can work for a wide range of budgets with many special buy options available at attractive prices, while luxury varieties incorporate unity materials like steel and brass inlaid into the pattern. Natural stone, while sometimes requiring a bit more care, offers the most stunning and unique patterns that allow you to select the perfect focal point for your space.
Save – Laminate Countertops
While stone is high of the wish-lists of many undertaking a kitchen project, laminate countertops are an option not to be dismissed. If budget is a top consideration, selecting laminate can open up more room in the budget for cabinetry & storage option in order to build that quality foundation for the space. The colors and patterns of laminate countertops available is almost endless and many use photos of real slabs of stone to create an impressive recreation. Since replacing a laminate countertop is one of the easier things that you can do in your kitchen, it often makes sense to put more into the cabinetry and storage needs of the space initially and then upgrade the countertops a few years down the line.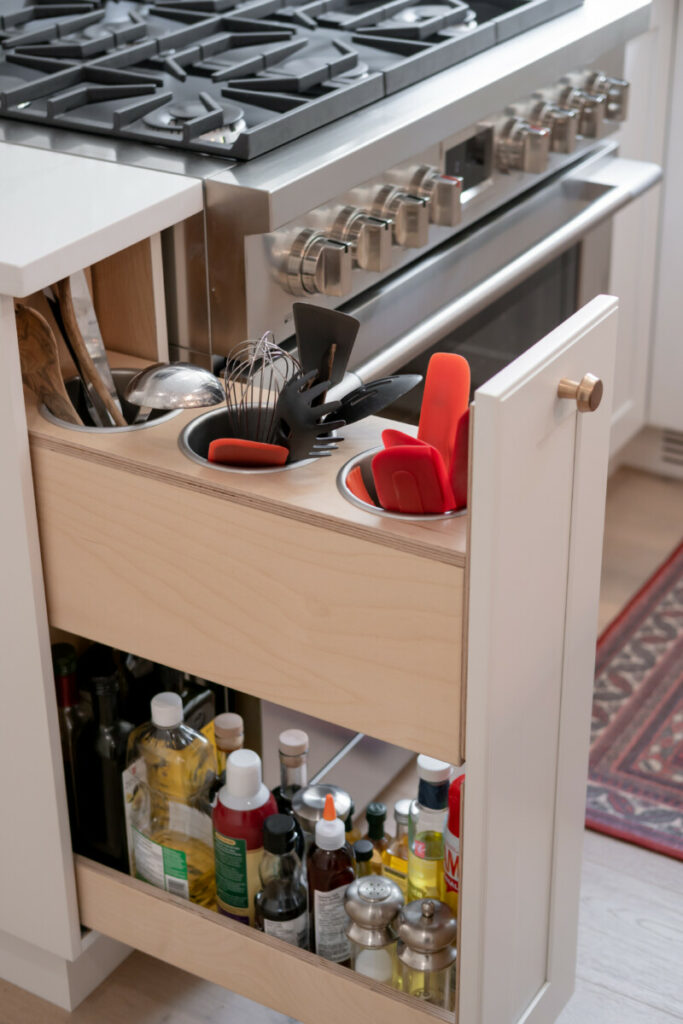 Splurge – Storage Accessories
When it comes to storage, the list of gizmos that can be added to your cabinetry is long. Generally, there are some that are best to plan for as part of the initial design, and others that may be easily added down the line. Super Susans are best ordered as part of the initial kitchen package due to the size and shape of the cabinet. It can be difficult to add an accessory later, and it often won't maximize the space due to having to fit into the narrow cabinet opening. Built in trash/recycling centers are another option that is best to include at the time the design is being done to maximize the size of adjacent cabinetry and ensure placement is intuitive to the workflow of the kitchen. Including as many drawers as you would like initially is also advisable, as converting a cabinet later will cost much more than the small upfront cost of the drawers would be. If some items don't make the cut initially, some that are easier to add later include drawer inserts, pull out trays & mixer lifts.
Save – Premium Finishes
Finish upgrades are an option that allows for further personalization of your cabinet fronts by adding additional processes such as glaze or distressing, which can generally add between 10%-25% to the cost of your cabinetry. While visually interesting, ensure that all your must have storage needs are accounted for before upgrading finishes. Using a couple accent colors in the space instead can be another option to add personality to the space without adding additional cost.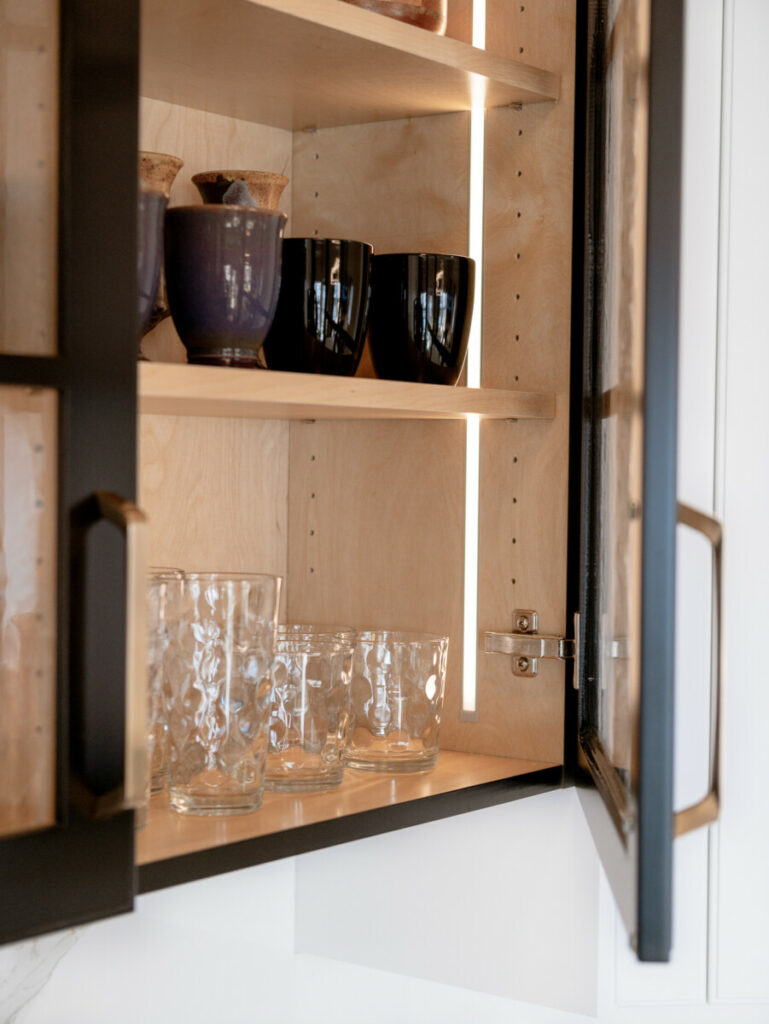 Splurge – Lighting
Under-cabinet (or in-cabinet) lighting is an option that most people are going to select in their kitchen in one way or another. Integrated cabinet LED strip or puck lighting increases visibility of the work surfaces, lights up the dark interior of a cabinet or highlights treasured items. Ordering lighting as part of your cabinet package instead of an after-market system allows for the cleanest installation with all wires concealed in the cabinetry with no bulky fixtures below the cabinets- often requiring a moulding just to hide them. Flexibility to integrate switching with a simple plug-in system or the option to hardwire makes integrated lighting adaptable to the scope of the project you are working on.
Save – Decorative Moulding
Depending on the style of cabinetry that you are drawn to, adding some decorative mouldings can be the cherry on top of the design, however there are a few options to consider along the way to keep the money spent on moulding in check. The more layers of moulding, the more it's going to cost – not only for material but for installation. One option is to not extend the upper cabinetry to the ceiling, allowing for one piece of decorative moulding to be placed on top instead of stacking two pieces (min.) to close all the way. If you prefer the look of the cabinetry closed to the ceiling, consider a cleaner look of a couple of pieces of straight trim instead of the more costly sculpted and coved crowns. When integrated under cabinet lighting has been selected, then no light rail moulding is required under the upper cabinets to conceal the fixture since they are installed flush in the cabinet bottom.
When exploring the scope of your project, your designer will work with you on some of these areas to determine the priorities around how you want your new space to look and function, and together come up with a plan that works for both your wish list and your budget.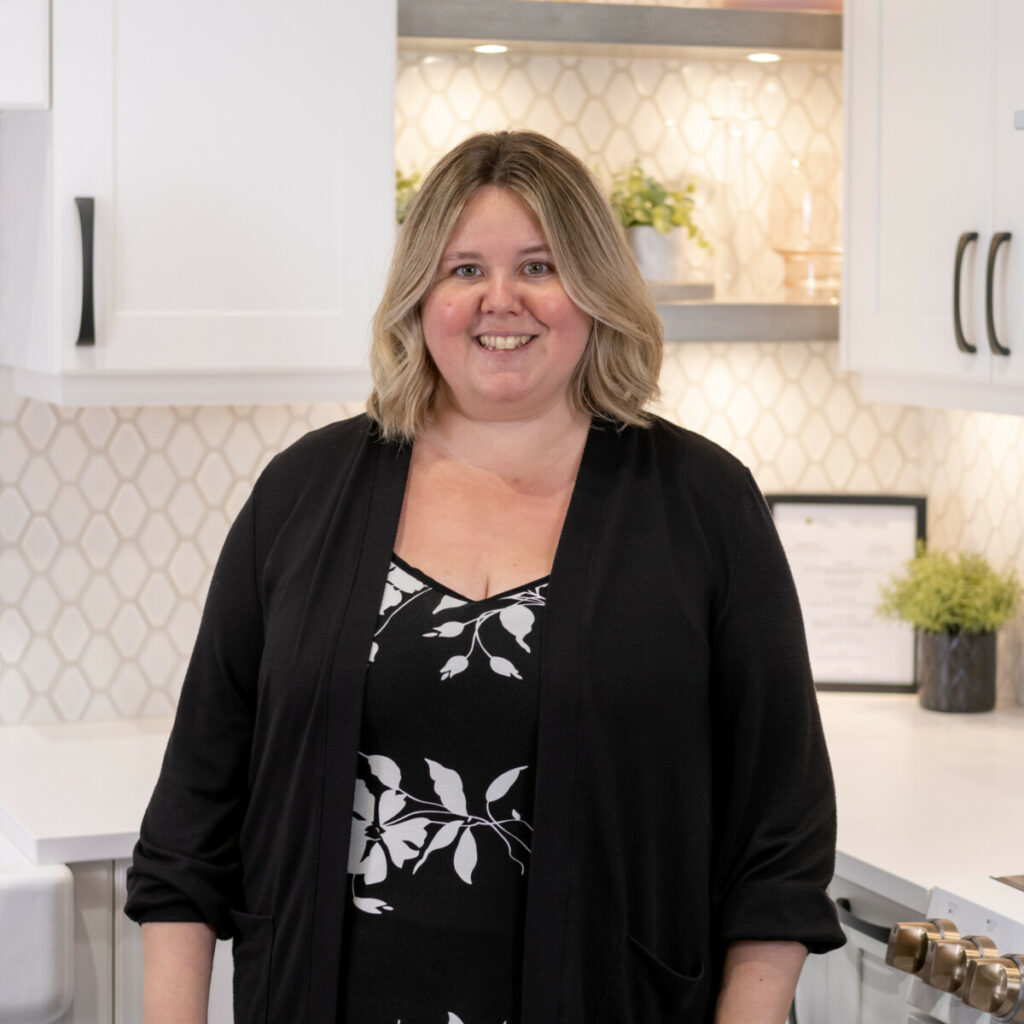 Candace Rudd
Candace has been assisting clients with their cabinetry needs since 2005, and in that time has worked on projects of all sizes in both Manitoba and Ontario. She is proud to hold the Certified Master Kitchen & Bath Designer (CMKBD) designation with the National Kitchen & Bath Association.
RECENT POSTS PICKED for you