Why Your New Kitchen Needs an Appliance Garage
Our favourite ways to conceal the clutter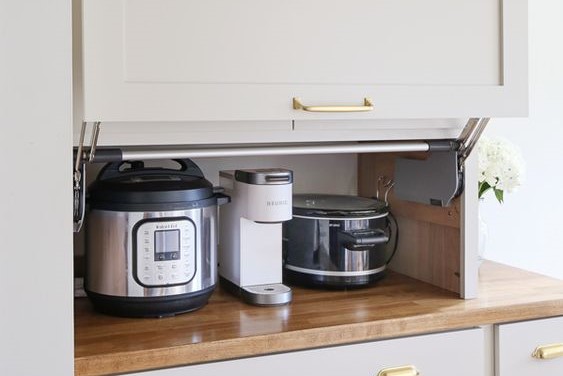 Are you tired of appliances and electrical cords taking over your countertop space?
As much as you need your appliances to be easily accessible to help streamline food prep, you don't necessarily want them all out in the open.
If you're like me, then each morning starts with a coffee grinder, coffee maker, and milk frother. Depending on the morning, there may be a toaster, blender or waffle maker up next. Lunch requires a microwave. Dinner is made in the instant pot or air fryer. Never mind the stand mixer that is always at the ready. Your space is overloaded with gadgets.
This is where design tools come into play. Appliance garages are necessary to give your kitchen a streamlined look, while keeping those hardworking appliances at the ready yet out of sight. Having them hidden at countertop height means you don't have to go digging through lower cabinets or pantries to haul out heavy items.
Appliance garages can also double as coffee stations, beverage centers, and baking nooks. They are customizable to your needs.
The key factor to an appliance garage is having doors which do not interfere with surrounding cabinets or prep space, since they will need to be open while the appliances are in use. Here are some of our favourite types of cabinets to use as appliance garages:
Pocket Door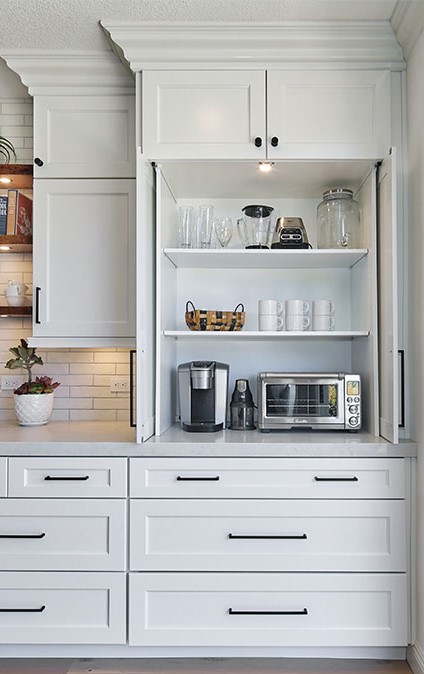 This style of appliance garage is very versatile – it can be used with either a single door or double doors. It can be short enough to accommodate just one section of appliances, or it can be used on a floor-to-ceiling cabinet. The doors tuck into pockets at the side of the cabinet so they can be left open and are not interfering with walkways or workspace.
Bifold Door
The ideal configuration for bifold doors such as these is to have them open against a wall, so they do not obstruct other cabinets. Bifold doors are ideal for creating access to a wide cabinet section.
Lift Up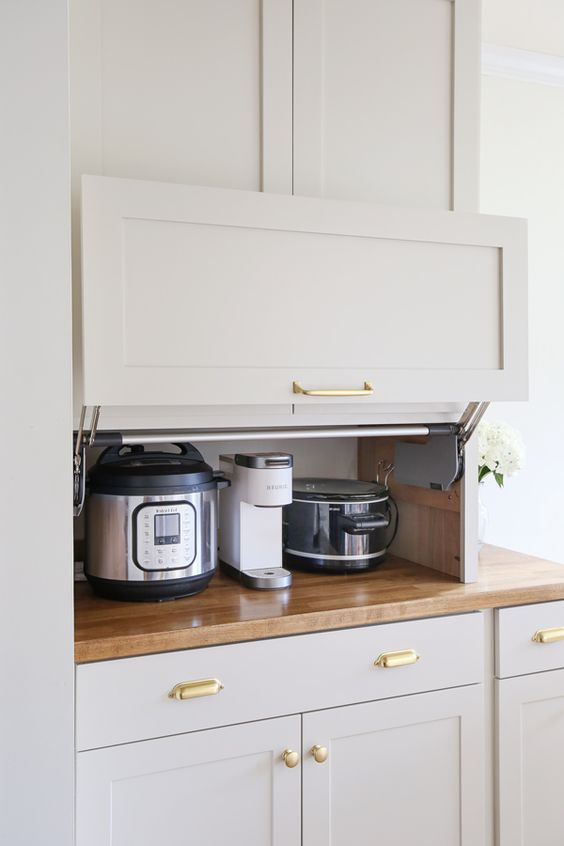 This type of opening is perfect for a smaller appliance compartments where the height required is around 18". It can be used underneath a run of upper cabinets. Keep in mind that this option does restrict access to the cabinets above while open!
Tilt-up Retractable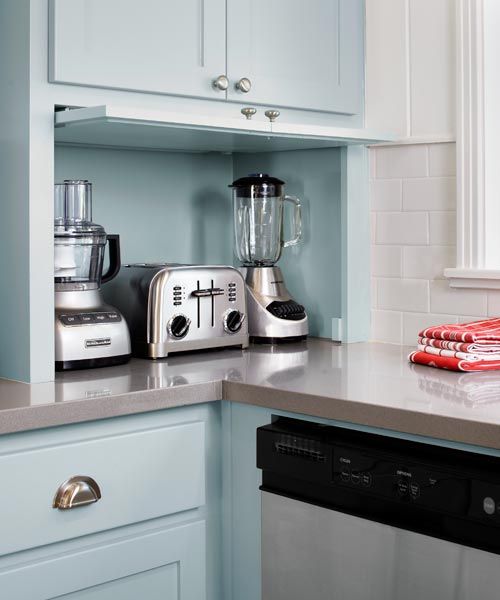 This style of tilt-up door has an upper pocket to slide into, which moves the door completely out of the way. This allows the space to remain open as long as needed. It is again best suited to shorter appliance garage sections.
Vertical Slider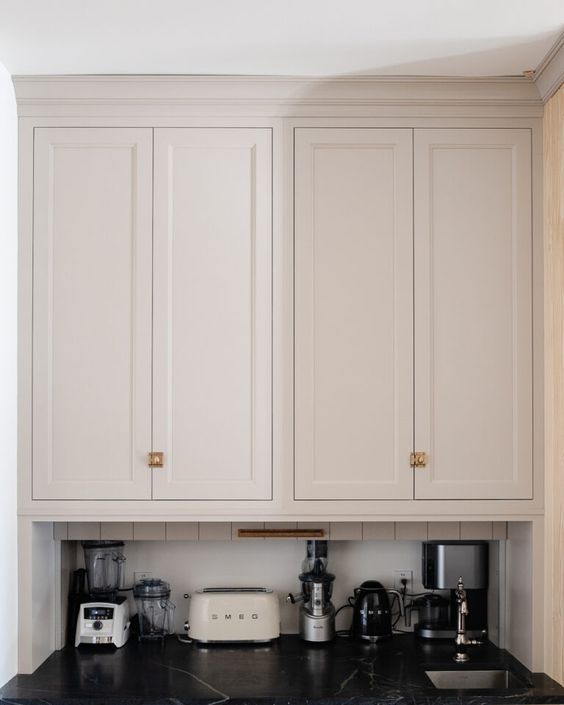 This custom solution is best implemented when you have a pre-existing nook to fill – this way the door can slide up behind the upper cabinets and acts as a hidden compartment where you can tuck away as many appliances as space allows.
With a bit of planning, almost any kitchen design can accommodate an appliance garage. If your goal is to keep the kitchen counter space as tidy as possible, then one of these options could be the right solution for you!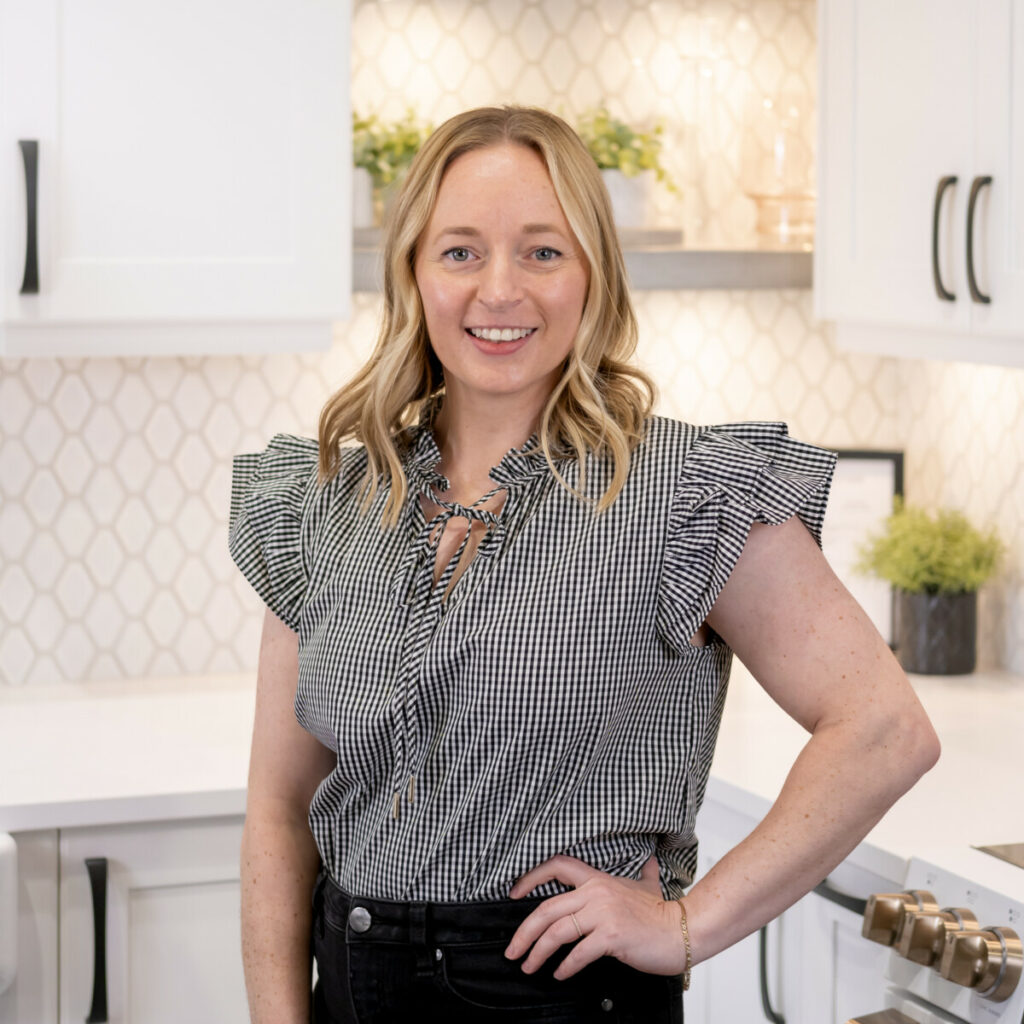 Julia Peterson
Julia got into kitchen design in 2017 after completing her bachelor's degree in architecture at the University of Toronto. Her passion for design and home improvement is a lifestyle – living and breathing renovations, she is always working on something in her own home along with her husband and 3-year old son.
RECENT POSTS PICKED for you