Kitchen Concepts: The Kitchen Work Triangle vs Kitchen Work Zones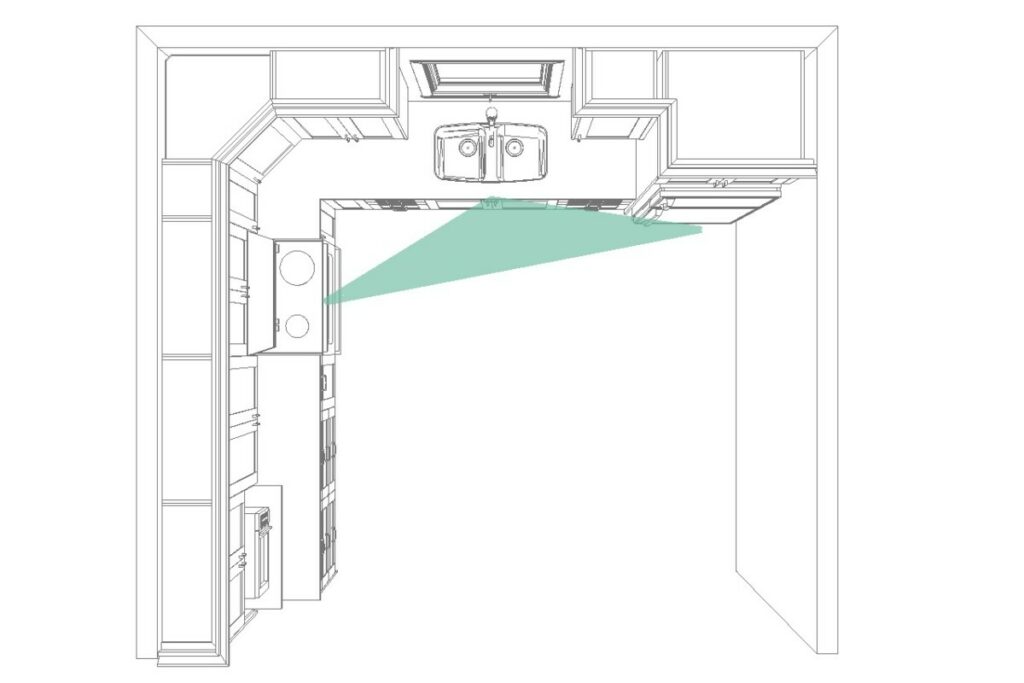 Is your kitchen living up to its full potential? When designing a new kitchen, your designer will not only focus on the aesthetics of the space, but they will help you create a kitchen that functions for your daily lifestyle.
To do this, designers use concepts such as the kitchen work triangle and working zones to maximize efficiency. While the concept of Kitchen Work Triangle has been used for years, many professionals are now using working zones to design spaces. So, what are the rules of these concepts, and how can they make a difference when designing your new kitchen?
What is the Kitchen Work Triangle?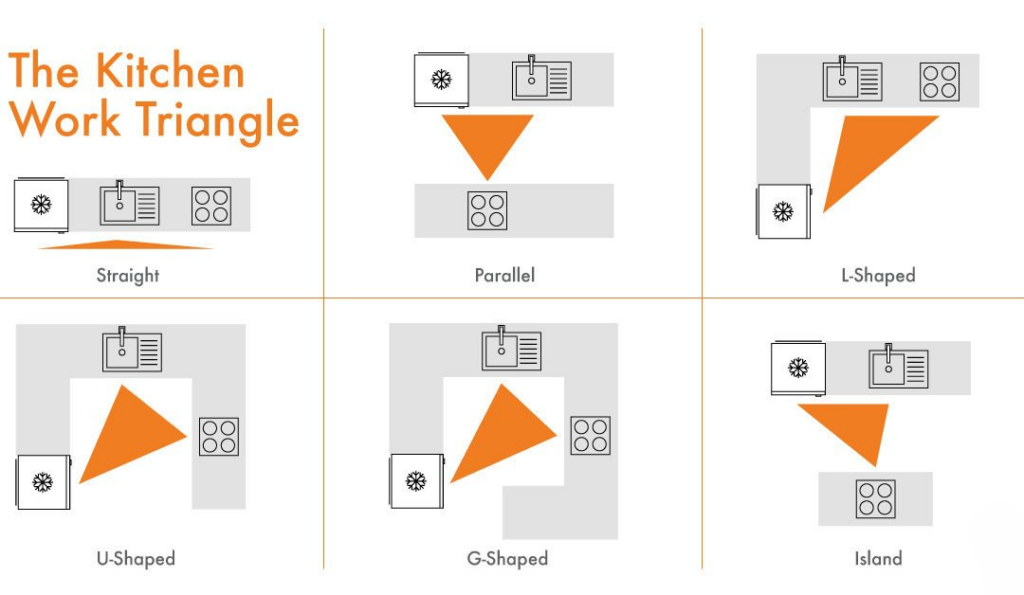 The work triangle concept was developed in the 1940's and focused on comfort and efficiency in the kitchen. The goal was that the placement of the three main elements of a kitchen (the sink, range, refrigerator) would form a triangle that allows the cook to move comfortably and efficiently in their space. When kitchen designers use the work triangle, the space should be easy to use, and a cook shouldn't have to take wasted steps. We talk more about the Kitchen Work Triangle in this post
A work triangle should follow these recommendations…
The distance between each item should be between 4 feet and 9 feet long. The three sides of the triangle do not have to be equal to each other but should be within the recommended distance.
The total sum of all three sides of the triangle should equal between 13' to 26.'
No major traffic patterns should flow through the triangle.
Obstacles should be limited within the triangle. Full height obstacles, such as tall pantry cabinets shouldn't intrude the triangle at all. Partial height obstacles, such as an island or a table, shouldn't stick more than 12 inches into the triangle.
If the triangle is made too small, the kitchen will feel cramped, and if it is made too large, it may feel like a hassle to move around the kitchen when cooking.
There are a variety of kitchen layout options, so there are many ways that we can apply the work triangle to different designs. Many modern designs change the dynamic of the triangle, due to having more appliances, larger refrigerators, secondary sinks, etc., which has created a need for new arrangements.
What are Kitchen Work Zones?
The more recent concept of work zones is a natural evolution from the work triangle. As larger, open-concept kitchens became more popular, designers started dividing kitchens into specific zones based on common tasks. Designing spaces using zones allows for more creativity and individuality, to ensure your new kitchen will suit your workflow.
Consumables

Food storage/pantry, refrigerator, etc.

Prep

Worktop space, mixing bowls, prep utensils, cutting boards, small appliances, etc.

Cooking

Pots/pans, cooking utensils, spices, cooking appliances (range, cooktop, etc.)

Cleaning

Sink, dishwasher, garbage/recycling, cleaning supplies

Non-Consumables

Glassware, plates & bowls, dining utensils, storage containers
You and your designer can plan the locations of each zone and determine how much space you need for each zone. You can plan this in advance to make sure that everything you will need to do one task is located in one area.
Aside from the five main zones, extra zones can be added to suit your needs. For example, you can create zones for baking, entertaining, hot beverage appliances, homework/work, etc.
How to plan your space…
When you meet with your designer, they will ask you a variety of questions that will help them get to know your needs and your workflow, so that they can understand the best way to apply these concepts within your design. Before your first meeting, you may want to think about the following:
The size and location of your kitchen: How big is your kitchen? Is it an open concept kitchen connected to other rooms in your home? Is there a lot of traffic that runs through the space?
Your appliances: Do you have appliances/fixtures other than the main three: the fridge, sink and stove. Consider any extra appliances such as a microwave, separate cooktop & wall ovens, coffee machine, etc.
Cooking & living habits. How complex do you need your cooking space to be? Do you typically have more than one person in the kitchen? What is your cooking routine like? Do you like to bake often? Do you plan to use the kitchen for anything else (i.e., entertaining, eat-in bar, dining, homework, etc.)?
Everyone's needs and cooking habits will be different from one another, so your kitchen should be unique to you. By getting to know your needs, your designer to create a customized kitchen design that is completely tailored to you.
Are you ready to meet with a designer to chat about your kitchen? Follow the link to schedule a free consultation.
RECENT POSTS PICKED for you